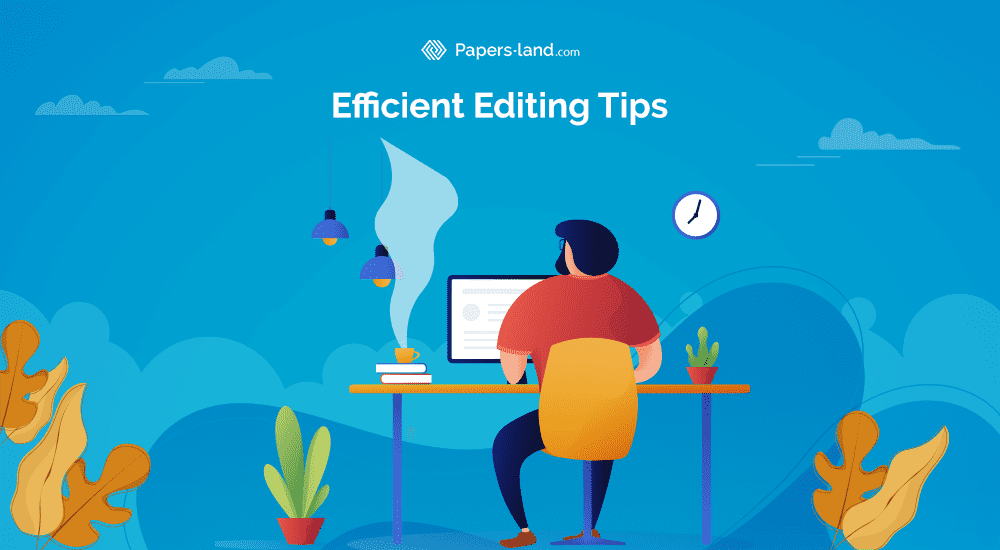 Editing is as important as writing itself, so it requires a serious approach. Should you hire a professional editor or can do you do it on your own? An editor is often needed when you have a complete piece of writing. If you have just started to write or don't have enough money to hire an editor, then become an editor yourself.
---
Two Types of Editing
You should know that there are two main types of editing: draft editing and ongoing editing. Most students cannot separate the writing process from editing one and edit the paper when writing it. You write some sentence that does not look appealing or relevant and you edit it right away. Fixing one sentence, you write a few sentences that do not need editing and then you again find something that should be fixed. Actually, this strategy is truly great because it helps significantly economize the time spent on the editing stage. Besides, writing the sentences and correcting them right away, you may come up with new brilliant ideas. This is called the ongoing editing.
As for the draft editing, you should finalize the writing stage, put all your thoughts together, and have some rest from writing. In a while, you need to take it again and start reading from the first lines paying attention to all the types of mistakes including the grammatical, spelling, and punctuation ones. Such a process requires looking at your final draft as a professional editor, who is objective, independent, and unbiased. Only in such a way, you will be able to improve your paper on different layers.
No matter what type of editing you prefer, you need to be particularly attentive and focused. Pay attention that the process of editing writing is particularly time and effort-consuming. However, if you want to receive a good grade for your paper, you should do your best to improve the text. By knowing how to edit papers, you will be able to maintain a truly successful academic reputation.
Writing tips
TOP-5 tips for writing a novel and editing it:
Keep the distance
Be organized
Have a plan
Be multiple
Don't forget about feedback
When writing a novel, remember not to do anything else – just write it! This strange advice is justified by the time gap between finishing it and coming back for editing.
When you take a break from your novel, you will still be analyzing and working on it, even subconsciously.
Once you get back to your masterpiece after a break, you can assess your novel objectively, or may have some new ideas, or be surprised because you don't remember that specific passage.
Editing your work independently means self-organization. So prepare your working place for editing and schedule your revision. You should develop your own system of taking notes. It will help you to track the details and structure of your novel.
A plan is vital for your revision as well. You check the general points of your novel such as the structure of the book, sense of the plot, characters development, setting, narrative, information delivery, and grammar.
Editing your own work is a complicated process that consists of a read-through, noting down the ideas that strike you, addressing the key elements when reading all over again, checking the quality of your prose, reading the novel out loud.
After you've done all of this, get feedback about your creation, ask anyone from your surroundings to read the novel and get some critique.
Efficient IMovie Editing Tips: Polish Your Paper Properly
Now, it's time to help you understand how to edit your paper. Follow our handy editing tips and make your text look better!
Cut long sentences into two or more. We are not talking about run-on sentences. Also, we do not claim that all the long sentences are incorrect. However, long sentences usually contain several ideas. Thus, it is logical to put these ideas into different sentences. If you want your reader to be focused on what you are going to say, you have to say it maximally clearly. Reading the text full of long sentences, the reader may easily get bored and lose interest in your document;
Reduce the number of adverbs. When it comes to academic writing, adverbs are not truly descriptive, thus they weaken the meaning of your text. Instead of saying that the cat is walking slowly, you may say that the cat creeps. Instead of saying that the girl runs quickly, you can say that the girl sprints. As you can see, by substituting the weak words with the more powerful synonyms, you will greatly strengthen your message;
Remove punctuation marks if they are not needed. Of course, a thought-provoking semicolon here and a powerful hyphen there can help you make your message clearer. However, the text that is littered will all kinds of punctuation marks do not flow well;
Stick to one voice. In some cases, using both the first and second person is necessary. At the same time, if it is possible to avoid it, you should do that because it can be pretty jarring for your readers. In academic writing, it is acceptable to stick to the third person. Thus, follow this rule and you will write your essay well. Moving back and forth between the two voices, you will confuse your readers and they will not be able to assess your paper with the highest mark;
Replace sophisticated words with simple ones. Some people think that the more sophisticated sources they use, the better their text is. However, we assure you that this approach is incorrect because the primary goal of your paper is to make it understandable for your audience. To get your point well, your reader should understand each and every concept introduced in it. The English language has millions of words. Almost each of them has synonyms that are more appropriate in the context given. Your task is to recognize which word fits your text better and use it;
Replace negative things with positive ones. Making too many negative statements in your writing, you will significantly compromise its quality. Try to avoid using too many don'ts, shouldn'ts, can'ts, etc.;
Remove redundant words or sentences. You don't need to say the same things twice. Even if you use other words for that. Too many redundant words or sentences will demonstrate your carelessness. Basic necessities, brand new, advance planning are examples of redundant phrases. Try to avoid the similar phrases in your text and you will definitely improve its quality;
Try to reduce prepositions. Yes, such prepositions as of, for, to, in, and others are pretty helpful, but they make your sentences too long because they just cannot stand alone. Prepositions are usually accompanied by many other words, which may make your sentences too cluttered. Sometimes, a whole prepositional phrase can be substituted by a simple word or it can be cut completely. The best way to reduce unnecessary prepositions is to make something possessive. The business of your uncle is your uncle's business;
Refuse from "in order to." By avoiding "in order to" in your sentences, you will make them lighter. Due to the lack of experience, many students use this word combination in the simplest cases. For instance, they can write, "I am going to the kitchen in order to take an apple." Using such a construction in a simple sentence will make it sound too official, which is completely wrong;
Don't use "start to" too often. Although this phrase is more difficult than "in order to" you should also try to avoid it because it only overburdens your sentence without adding value to it;
Reduce the use of "that" if possible. If you think that this word helps you explain your idea better, you are wrong. You have to get rid of "that" in your sentences as it will make your text clear and comprehensive. For instance, instead of saying "I decided that management was a perfect fit for my career aspirations," you may say "I decided management was a perfect fit for my career aspirations."
Get rid of "thing" or replace it with another word. If the writer often uses "thing" or "things," it means that he or she is too lazy to find better alternatives. In everyday communication with your friends or family, you may use this word. However, when it comes to academic writing, you need to be very attentive and substitute this word with the more appropriate one;
Use strong verbs. For instance, the verb "to make" has different meanings. Instead of saying "I use these techniques to make my message stronger," you may say "I use these techniques to strengthen my message." Instead of "to make something tighter," you may say "to tighten."
Refer to people as "who" instead of "that." It means that Jacob is the guy, who forgets about everything, not the guy that forgets about everything. In everyday conversations, the use of "that" is acceptable. However, if you want to become a good academic writer, you should follow the rules established by the scholars;
Use the active voice. Almost all the professors in colleges and universities ask their students to use active voice because it can help them strengthen the messages conveyed. For instance, instead of saying "The door was left closed" you may say "Someone left the door closed." The thing is you should be clear who is responsible for executing the action;
Don't use "currently." The well-known copywriters admit that the word "currently" is unnecessary in most cases. If you want to say "Bob is currently a top manager at MAT," you can just remove "currently" and the meaning will be the same;
Try not to use "there is" or "there are" at the beginning of your sentences. Once again, this technique is used by lazy writers because it is the easiest way to start sentences. Instead of saying "There are many ways to make your body healthy." You may say "You can do a lot of things to become healthier." As such, when editing your paper, make sure to rewrite all the "there is" or "there are" sentences;
Use contractions whenever it is appropriate. Have a look at two sentences and tell which one sounds better?

I am going to the library that is close to my house.

I am going to the library that's close to my house.

The second sentence sounds more friendly and appealing. Using contractions, you will become closer to your readers, which is a great instrument for reaching the desired outcome. In such a way, contractions will make your text more readable and easy-to-comprehend;

Identify what you tell. Editing the paper without understanding its context is impossible. Therefore, the proper draft editing requires a thorough reading of the text, probably even more than twice in order to understand how your ideas are connected to each other. The more familiar you are with the copy of your paper, the easier you will find the mistakes compromising its quality. However, when proofreading your paper, you should not pay attention to the content of your text as your primary task is to improve its mechanics;
Be attentive with the words "that" and "which." The common rule says that the word "that" does not require the comma after it whereas the word "which" requires it. For example, have a look at the following sentences "We came to the house that was destroyed by a tornado" and "We came to the house, which was destroyed by a tornado."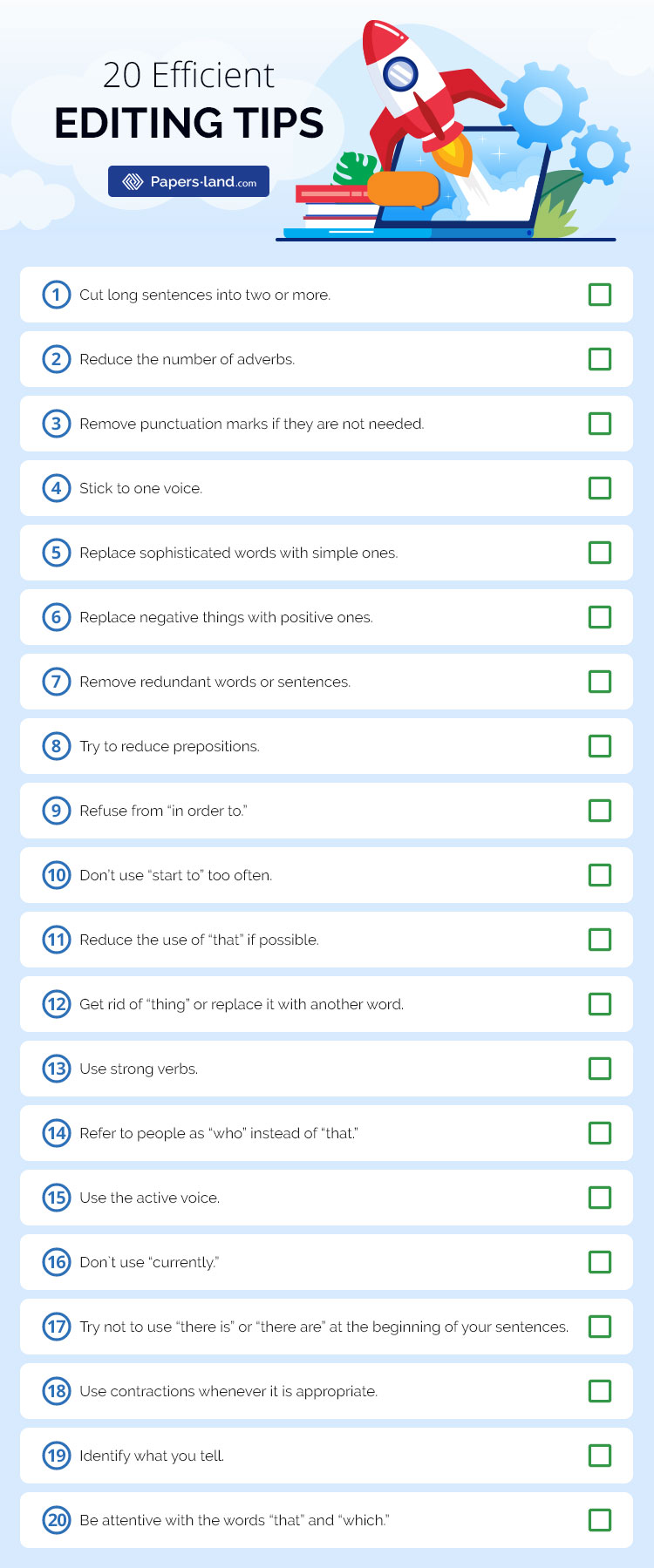 So now you know the basics that will allow you to become an editor of your novel. Remember that editing is not a separate process from writing, it just forms a whole complicated system that will result in a new literature masterpiece.
If you follow the tips and secrets suggested above, you will be able to fix your paper thoroughly. However, if you do not have the time of sufficient experience to improve your text on different layers, you can always ask us to take care of it. Having many years of experience in writing editing, we assure you that we can cope with the assignments of different levels of complexity. Our quality assurance managers know a lot of amazing editing tips. Actually, we have helped hundreds of our customers improve their academic results by providing them with high-quality editing services. If you are alone with your assignment and have no idea of how to edit writing, do not waste your time and get in touch with our support managers. They will guide you on how to place an order, how to upload the file for editing, how to forward important information, or anything else. For your convenience. Our managers are working round-the-clock. All you need to do to get expert help and relax is just to contact us with the words "Please, help me edit my essay" and we will handle the rest!
It is necessary to understand that the editing process in writing is very difficult to underestimate since it significantly improves the quality of the paper and allows to get rid of the mistakes affecting paper quality. If you don't know how to edit your own writing or just have no time for that, you can always contact us with the appropriate request. Here, at Papers-Land.com we have a whole team of editors, who are capable of meeting the most challenging guidelines.
Our writers and editors were trained to provide our clients with premium quality services helping them achieve their academic goals. If you feel that ordering our assistance is a good choice, do not waste your time and place your order right now. No matter how urgent or difficult your task is, we will help you cope with it on the highest level. Every single customer, who chooses Papers-Land.com as their writing provider is absolutely satisfied with our professionalism, reliability, and fair treatment. All in all, we guarantee that your decision to buy our writing or editing services may become a turning point in your academic career. So, leave all your worries behind and entrust your academic reputation in our hands. We will do everything for you not to regret it!