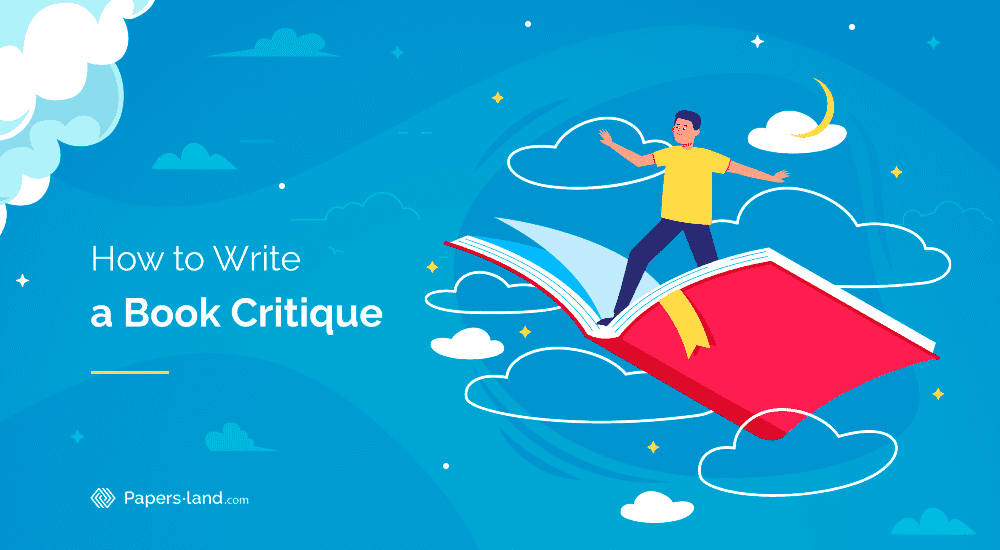 How to Write a Book Critique? Check Out a Helpful Guide!
Being a student, you will need to gain new skills by completing numerous academic assignments. Writing a book critique is one of the common tasks in your academic curriculum that you cannot avoid. Creating such a paper requires having advanced writing and analytical proficiency, as well as the knowledge of literary genres, writing styles, etc. If you are not certain how to produce a good-looking critique, you just need to keep reading our guide and we will provide you with the information collected by the best academic writers. But before you figure out how to write a book critique, let us clarify what a critique is. According to a common definition, a critique is an in-depth analysis of something. In academic writing, a book critique assignment often requires a thorough analysis of specific literary work. When you need to write a book critique, it means that you need to analyze the manuscript from different perspectives focusing on the plot, author's messages, characters, conflict, setting, as well as many other aspects. Unfortunately, many students fail this task being unable to understand how to write a book critique according to the latest academic writing criteria. If you are willing to get a good grade for your book critique paper, you need to have a look at some helpful suggestions that are collected in our article. So, now when you know what a book critique is, let's focus on the writing process.
First and foremost, you should not confuse a book critique and a book summary since they are different tasks. Whereas a book summary aims to tell what is happening in the book, a book critique is focused mainly on the analysis of the main aspects. Turning your book critique into a summary, you will never receive a good grade for it. Pay attention that the word "critique" does not mean that you should give a negative assessment to a manuscript. If you think that the book is well-written and the writer has succeeded with the development of his or her ideas, you should clearly state it in your paper. In other words, when working on your book critique, you need to evaluate its worth and assess its validity in a maximally objective manner. A book critique is often called a critical response since the writer should also provide his or her personal reaction to the book. If you want to get a good grade for your paper, you should convince your teacher that you know the book well and can support your arguments with solid textual evidence. Writing a good book critique paper is quite difficult but it is possible if you manage to organize your writing process well.
Common Book Critique Format
Although book critique assignments vary in length and styles, all of them should follow the classic structure mentioned below:
Introduction
In fact, the title of this section is self-explanatory. It means that you need to introduce your book to your audience providing them with the full title of the manuscript, the name of its author, as well as the central idea of the book. Many writers also include sufficient background information about the book or its author in order to help the reader understand the analysis better. Also, an introduction includes a thesis statement that will define the direction of your critique.
Body
When it comes to book critique writing, your main body should be divided into two major parts: a summary and a critique. Let's discuss these parts in detail:
A summary. In this part, you need to summarize your book focusing on the main events happening in it. If your reader is not familiar with the primary source, your summary will help them understands your ideas better. Your main goal is to create a vivid picture of what is your book about. Pay attention that you do not need to provide a chapter-by-chapter summary. Summarizing a couple of the main events will be enough. Turning your critique into a summary, you probably receive an unsatisfactory result.
A critique. This part is the most important part of your paper since it allows you to demonstrate whether you know your initial source well. If you do not know how to write a critique of a book, you should just answer the following questions:
Is the plot logical? Have you found any inconsistencies in the way the author is developing their ideas?
Do you believe that all characters are developed enough? Do the behavior and motives of the characters look natural? Discuss the relationships between the main characters;
What language is used by the author? Are there any stylistic devices that are worth attention? What instruments are used by the author to make an impression on the reader?
Is the story unique or the plot resembles any other literary piece?
Does the book teach its readers? What lessons you have noticed?
What was your impression after reading the book? Would you recommend this manuscript to your friends?
What are the main advantages and disadvantages of the book? Have you enjoyed reading it?
After you have answered these questions, you will need to organize your answers into a comprehensive piece supporting your arguments and ideas with good textual evidence.
Conclusion
A conclusion is a final part of your book critique. Most probably, this part will make the strongest impression on your reader. Thus, you need to sum up all the arguments and ideas that were discussed previously. Without introducing new details, your conclusion should express your overall opinion about the book helping your reader figure out if it worth their attention.
How to Critique a Book?
If you want to impress your tutor with a professional approach, you should be able to evaluate the author's writing style, state his or her credentials, interpret their messages, as well as state if there are any gaps in the plot. To convince your teacher that you know what you are talking about, you need to study the book carefully. Ideally, you need to read it attentively highlighting the most meaningful points that will serve as a basis of your essay. Once you are done with reading, you need to reflect on the points you are going to discuss in the paper. In academic writing, this process is called brainstorming. Smart students know that brainstorming is particularly important since it allows them to avoid spontaneous writing. After all, knowing what you are going to write will help you enjoy the smooth writing process. Besides, we highly recommend you not to underestimate the importance of an outline. In a nutshell, a book critique outline is a plan for your paper that includes the main ideas, insights, and arguments you will introduce in your document.
What to Do Before Writing?
If your teacher asked you to write a book critique, he or she has probably provided you with a prompt. To handle your task successfully, you need to make sure all the points indicated in the prompt are manageable. In particular, you need to check the number of pages to be written, the formatting style, the specific points to consider, etc. If you are willing to receive a good grade for your paper, it should be written, structured, and formatted perfectly in accordance with the teacher's guidelines. Besides, it should be absolutely free from grammatical mistakes.
If you are not certain about how a good book critique looks like, you need to check the well-written samples available in online databases. Looking through the papers that are written in accordance with the latest academic writing standards, you will be able to improve your own writing skills. You should understand that writing your paper without good preparation, you may make it shallow and confusing. Thus, we highly recommend you take enough time to prepare yourself for the writing process.
Below, you will find a simple checklist of the steps you will need to take before you start working on your book critique:
If you are free to choose a book, make sure to select the one that provides room for discussion and fits your research interests;
Read the bookmaking notes about the most significant aspects;
Define the main idea of the book;
Develop your thesis statement;
Write several topic sentences that will be related to your thesis;
Start writing your essay following the classic structure.
How to Start a Book Critique?
How many times you've heard that a good start is half of the success? Well, when it comes to academic writing, a good beginning should not be underestimated since it aims to grab the reader's attention making them follow the rest of the paper. As such, we highly recommend you begin writing your essay with a hook that would make your reader interested in your analysis. A hook may have any form. For instance, it can be a quote, a joke, an interesting fact about the author, etc. Pay attention that the length of your introductory paragraph depends on the length of the whole document. Making it too short or too long, you may fail this task.
Writing a Good Book Critique: Follow Our Checklist
Below, you will find a checklist that will help you figure out what points should be analyzed in your book critique:
What is the full title of the book you are going to analyze?
Who is the author of the book? Is the style of the book typical for this author?
Is the author biased?
What are the main themes explored in the book?
Is the author successful in what they are trying to achieve?
Are the author's arguments logical?
How can the reader interpret the author's ideas?
Are the author's methods of delivering information appropriately?
Is the author successful in developing their characters?
Are there any specific features that are worth attention?
Of course, book critique writing is not a cup of tea for many students but we assure you that following these suggestions, you will be able to create a paper that will bring you the anticipated outcome. Do not forget that before submitting your paper, you need to edit it meticulously. We highly recommend you read your paper several times once it is written in order to notice and fix any flaws compromising its quality.
Buy Amazing Book Critiques at the Best Writing Service!
Writing a book critique can be a great challenge for all students, who take care of their academic performance. Reading a lengthy and sophisticated book may take a considerable amount of time and effort causing stress and anxiety. If you are willing to avoid the boring writing process, you need to entrust this task to our competent writers and we won't disappoint you. Our writing service is a reliable provider of custom writing assistance to students worldwide. No matter what book you want us to analyze, we will handle this task perfectly because we have enough resources to do it. First, we have a great team that consists of skilled and seasoned writers, editors, and proofreaders, who are capable of creating masterpieces on diverse academic topics within the most limited time frames. Each of our skilled pros knows how to write a book critique of unmatched quality. Also, you should know that we use the best plagiarism detection tools in our work, which enables us to guarantee the total authenticity of every single paper ordered here.
Read also: Get Professional Book Review Help Cheap
If you are wondering what makes our writing service stand out of the crowd, we want you to know that the price and quality balance established at our writing service allows our customers to purchase high-quality papers at a very reasonable cost. So, if the deadline for your book critique is approaching and you are afraid that you won't be able to handle it, just place an order at our writing platform and you won't be disappointed!