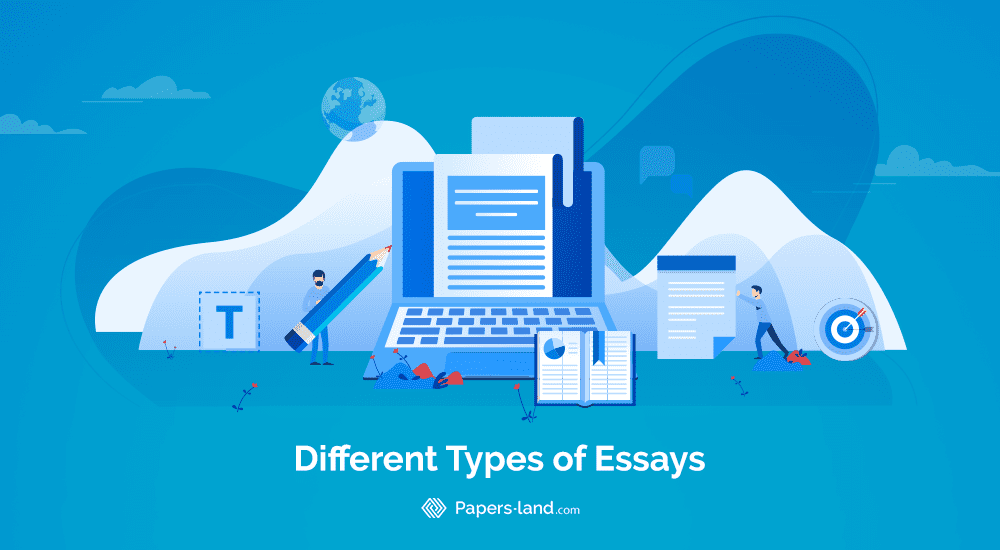 Different Types of Essays: A Comprehensive Guide on Academic Essay Writing
For many students, essay writing of different types may be great fun unlike other academic assignments. When a student gets assignments of various essay types, it is easier to find out which types are simpler and which are more complicated to write. Moreover, for many students, versatility in essay home assignments is a factor that makes academic life less boring. Essays can be narrative and descriptive, formal and informal, short and long, expository and argumentative, etc. Regardless of the essay type, in the process of writing, the most crucial factor that is decisive for the overall success is how well the essay requirements are met. If you want to deepen your knowledge in various essay types, read the article.
Critical Essay
When you have to submit a critical essay, you are expected to focus on the strengths and weaknesses of a specific point. Generally, when you need to write a critical essay, you should describe the given phenomenon/ object/ issue, etc., and provide either positive or negative characteristics of it. Usually, when students are assigned critical essays to write, they are based on some literary work or a movie whatsoever. As such, you have to analyze the author's attempts in providing a specific work: whether he/ she was successful or not, whether he/ she managed to convey the central idea, etc.
One of the central difficulties is that you have to be well-versed in the core essence of the phenomenon you are going to critique. A critical essay should be strong and supported with solid evidence. The words you choose are the weapons with which you can communicate your message across.
On the whole, critical essay writing is not an easy process, so be prepared to practice much. You need to master your academic writing skills as well as critical and analytical thinking skills. Do not be discouraged if the first steps are not successful enough. Practice makes perfect: just do not give up and write on a regular basis.
Descriptive Essays
A descriptive essay has a clear purpose – to describe something in the best possible way. Such type of assignment allows much time for artistic freedom since the author is supposed to create a clear image in the reader`s mind. Writing such an essay, you have to concentrate your attention on the smallest details so that your reader could imagine the thing you describe.
Choose the descriptive words that relate to your subject. As for some other essay writing techniques, you may use a lot of adjectives that will help you to paint a picture for your reader.
Persuasive Essays
Don't know how to write an essay? A persuasive essay is an argumentative paper that helps to persuade your audience in a certain viewpoint. Usually, such an essay is written on a topical subject and contains strong arguments. Besides, a persuasive essay should contain efficient evidence that can support the thesis statement.
As well as most of the types of academic essays, a persuasive essay needs to contain a strong thesis statement that will be supported throughout the essay. Follow this guideline and you will forget about "how to write an essay" requests!
Narrative Essays
A narrative essay means that the writer wants to tell a particular story to the readers. This story should be interesting and informative. Your essay should include a plot, setting, main characters, etc.
Besides, it should have a clear essay organization. Follow all the essay writing tips and do not try to overburden your narrative essay with unnecessary details. Your reader wants to enjoy an easy narrative, so do not disappoint him/her!
Expository Essays
An expository essay is a type that requires investigating of a particular aspect, idea or argument. These essays are written with the help of various methods: comparison and contrast, cause and effect, definition, etc. When writing an expository essay, be sure to follow the guidelines precisely, and you will receive a positive grade!
Comparison & Contrast Essay
The core function of this kind of academic paperwork is to highlight similarities and differences between phenomena, objects, people, events, problems, occurrences, etc. When writing this essay type, it is crucial to conduct detailed research on the given topic and investigate what things the compared objects have in common. As such, the similarities and differences between two analyzed things should be clear to the target audience.
Cause & Effect Essay
The central focus of this essay type is to investigate the sequence of certain events and how they lead to a specific outcome. The overall way of organizing this essay resembles a study where you have to thoroughly analyze what were the causes of a certain effect or result. On the whole, a writer working on a cause & effect essay should demonstrate great analytical skills and logical thinking in order to establish connections between causes and effects. To provide a high-quality essay, it is essential to study similar works and take them as a sample for writing.
Process Essay
At first sight, this essay type resembles a cause & effect essay since a student writing a process essay needs to have the same understanding of the subject matter and the principles of its functioning. When investigating the tips for writing a process essay further, one may see that it also looks like a manual with detailed instructions.
Argumentative Essay
This essay type is frequently assigned on different academic levels. As such, argumentative essays come in different topics and levels of complexity. The underlying principle of this essay type is to convince the target audience to accept your point of view or perspective on a specific topic. When writing an argumentative essay, you need to be persuasive and use strong language. Apart from merely providing your claims and arguments, you should also support them with adequate supporting evidence. The examples and illustrations you use for the evidence should be taken from credible sources. Without expert opinion, your essay will not be persuasive enough. Apart from providing arguments relating to your standpoint, you should also provide counter-arguments and refute them afterward.
Extra Types of Essays You May Be Asked to Write
Now, when you know different types of essays, let's discuss three types that are not assigned that frequently. Nevertheless, if you want to be a good writer, you should know their key peculiarities. Have a look at the 3 types of essays mentioned below:
Scholarship/Admission Essay
Comparing to common types of essays, admission is pretty different. It is not a part of the academic curriculum of a student. It is rather a ticket to higher education. After their graduation from high school, the students should choose colleges in which they want to continue their studies. However, the number of applicants can be higher than the number of actual places in a college. As such, the admission committee members make their decisions based on the admission essays submitted by the applicants. Such an essay should:
Explain why you are a good fit for this college or educational program;
Tell what strengths and experiences will help you become a good student;
What are your long-term goals and how they match the college you apply to;
Reflect on your personal qualities that will allow you to become a valuable asset at the college chosen;
Emphasize how you are going to benefit the community.
A scholarship essay is written when the student is applying for financial aid. Sometimes, the financial situation of the family does not allow the student to continue getting an education. However, a bright and goal-oriented student can get the financial support that would help them solve a lot of problems. The people responsible for issuing financial aid will choose the students based on their scholarship essays. As such, when it comes to writing an admission essay or a scholarship essay, too much is at stake. Colleges are willing to accept good students and reward them for their achievements. So, if you want to earn a good reputation, we highly recommend you polish your essay writing skills until perfection.
Cultural Identity Essay
The United States has always attracted students from different academic backgrounds. However, by absorbing the characteristic features of the new culture, the student should not forget their own identity. Writing such an essay, the student will help teachers and classmates understand his or her cultural identity better. Including the information about the beliefs, values, customs, and traditions inherent to the native culture of the student, such an essay may help understand the student's behavior and motivation better. However, you should not confuse a cultural identity essay with a personal essay. Whereas a personal essay should focus on you, your feelings, experiences, and values, the cultural identity should explain your culture and your role in it. In this essay, you need to show that you have a rich cultural background and you fully realize your identity.
Informative Essay
An informative essay should provide the reader with specific information. One may argue that any essay contains some information, thus it can be called informative. However, unlike other types of essays, an informative essay should cover the topic with the help of specific terms, in-depth analysis, and vivid descriptions. Thus, in order to create a good informative essay, one should be a skilled specialist in a particular field of study.
Types of Essays for Middle School
If you are studying in middle school, most probably, you will be asked to write narrative essays, reflection essays, description essays, process essays, etc. For instance, you may discuss how to cook some dish or tell some story from your life with the help of an essay. Even if these essays are not very difficult to write, they still require hard work and dedication. You should pay attention to not only their content but also their structure. All the ideas you present in your essays for middle school should be clear and comprehensive.
Types of Essays in High School
As for the high-school students, they are often asked to write narrative, compare and contrast, expository, cause and effect essays and many others. Each of these essays requires using a classic five-paragraph structure. Also, at the end of the study, the students are asked to write admission essays. Admission essays help applicants express their motivation to become a part of the educational environment of the specific college.
Types of Essays in College
In college, the student may be asked to write all the types of essays mentioned above. However, college essay writing is characterized by more sophisticated topics and a professional approach. When writing an essay in a college, you need to do the following:
Brainstorm your ideas in order to find out which ones should be discussed in your essay;
Narrow down your topic to specific points and address them thoroughly;
In case of having any problems with paper`s organization, make sure to write an outline;
Write an essay sticking to your outline and organizing the ideas in a logical flow;
Revise the essay properly to make sure it is totally free from any mistakes.

All in all, the essay types provided in the article are some of the most common ones. When you carefully look through a description of each, you will see that each requires a specific set of skills and competencies. If you need professional assistance, rely on Papers-Land.com. We are an expert custom writing service that can provide numerous academic essay types. We are a reputable service that can cope with different types of academic assignments regardless of paper length or complexity. Feel free to order from us right now.