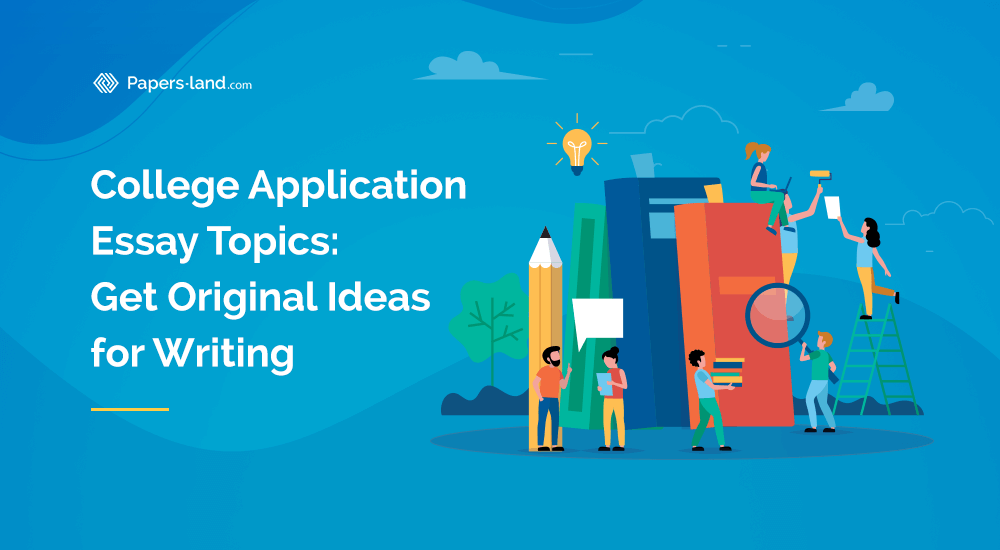 College Application Essay Topics for Successful Writing
It is essential to know how to choose appealing college application essay topics in order to be enrolled in your dream college. After your last year of high school, you encounter a very special period of your life – you have to decide what college to apply and what you want to study over the next few years. The process of college application can be rather tough and challenging on the whole but it has its peculiar feature – it always involves the process of writing a college application essay. The core aim of a common application essay is to provide the college admission committee with convincing information why you should be enrolled on a specific studying program. As such, you need to make the essay both professional and personalized in order to help the college admission committee learn more about you.
When starting to write a college application essay, make sure you choose the most appealing topic among the list of college application essay topics. Even though it may seem to you that all college application essays are the same, they actually differ since they may focus on different perspectives of your personality. Therefore, come up with a college essay topic that will help you reflect on your personality in the best way and convince the college application committee that you are worth being accepted for a specific college department. If you want to learn how to come up with good college application essay topics, read on the following information:
Make sure that your topic best reflects your story. You need to share your personal story and highlight on your best competencies, hard and soft skills, talents, hobbies, and experiences that will help you become a part of the college community. Any information that you provide in your college application essay should be relevant to the requirements of the college. As long as you can tie that information to the application requirements, the information can be considered relevant. You may also send your resume but here make sure that you do not repeat information from the resume in the college application essay.
Emphasize that you can derive lessons from obstacles. Regardless of what topics for college application essay you may choose, remember that any of them will deal with both positive and negative aspects as well as with both your strengths and weaknesses. Whatever the topic is, it would be strange if you focused merely on your strengths and positive aspects of your personality. It is an undeniable fact that each person has both strengths and weaknesses, so make sure you describe yourself from different perspectives, pinpoint to what is challenging for you, and how you can cope with challenges. Even if you tell your admission committee about the troubles you faced, it may highlight how well you have coped with the difficulties, in what way they have benefited you, etc. Therefore, that is why it is essential to focus on the negative experiences as well.
Turn challenges you faced into the prerogatives. Make sure you reflect on a specific time when you faced some challenge – be it a professional or personal experience. Make sure you identify how you have managed to cope with the challenge. Make sure you are specific about what you are telling about.
Problem-solving skills. What is particularly valued about a person applying for a college is how well you can cope with problems and how you can undergo stress. Make sure you identify specific strategies and steps that helped you solve a specific problem. Also pinpoint to whether you have learned some lesson, whether you have gained some new experience, etc. Make sure you specifically indicate why the problem proved to be important to you.
Emphasize on the personal growth. Make sure you provide specific examples or illustrations of the events, experiences or occurrences that added up to your personal growth. Here you may focus either on pleasant moments or some milestones that helped you grow personally or professionally. You can either focus on a small or large "aha" moment. Just recall of the experience that changed your life or broadened your outlook at least just a little. It does not matter much what kind of experience you choose to illustrate – rather make it clear to the admission committee that you can demonstrate your personal growth and that you can clearly explain what you have learned. Your ability to introspect also matters a lot.
What are you passionate about? Here you have to write about your interests and passions. Your college application committee values a lot if you tell some more information about your values and passions. It is essential that your admission committee knows about your personal interests. It will help them know what you can do when it comes to extracurricular activities. Normally, reputable colleges look for students who have a broad outlook and who are curious about different matters. Moreover, preference is always given to those who are thoughtful of the world around them, so be sure you choose the best among the topics for college application essay that can best reflect on this. When writing about your interests, focus not only on describing your interests but also how you pursued them, how you gained interest in them, etc.
Topic of your choice. Whatever college essay topics you have come across, make sure you pinpoint to the admission committee that you are more than your scores and academic accomplishments. As such. Place emphasis on your true personality. When reflecting on your topic, pinpoint to the why's and how's.
What our customers say

Floyd
You helped me a lot! I received an excellent research paper from your writer!

Jan
My paper is perfect! I got A+ with your help! Thank you!

Steven, LA
Thank you for an appealing piece of writing. Additionally, I am grateful for a good abstract. It was stunning!

Sophie, FL
Great job! I'm satisfied that all my requirements were taken into account! As far as I've got a high mark for my home assignment, I can boldly suggest papers-land.com.

Jack, PA
The quality of my research paper was just perfect and the company met a deadline. So if you are still in doubt whether to order a paper at this writing service or not, I can recommend you take a right decision and to make an order!

Amanda, WA
I'm grateful to this service because my essay was considered by my teacher as the best one among others. I'll definitely apply to this company again.

Ryan, CA
The biggest challenge I always face is to write briefly. So that I didn't find a better solution than just to make an order at papers-land.com. That was a right decision because the company completed the task splendidly!
More Good Topics to Write about for College Application Essay
Here you fill find some ideas for college application essays that you may focus on:
Describe a person whom you truly admire. Here you may choose any person. It does not matter whether this person is a celebrity or not. What matters is the way you justify your choice. Make sure you focus on specific qualities or factors that have changed your behavior or that have altered your outlook on life.
Why have you chosen this specific college? Choose someone who has actually caused you to change your behavior or your worldview, and write about how this person influenced you. Here avoid generalized answers but be as clear and precise as possible. Provide specific examples of what opportunities you may acquire from getting enrolled into this specific college.
Write about the book you love or the book that has changed your world perception. Here do not organize your essay as a book report but provide specific details in what ways do you find the book is meaningful to you. Also pinpoint to how you identify with the book.
What is the most significant or meaningful extracurricular activity that has proved to be meaningful to you. Make sure you identify in what ways it has benefited you, what new perspectives it has opened for you, and how it forced you to grow or develop new skills, etc.