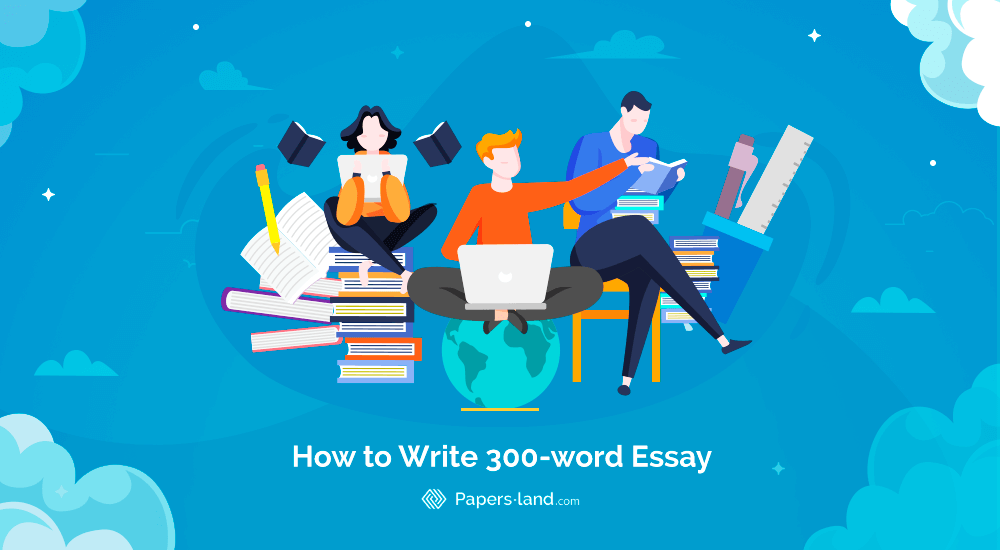 Our Guide Will Help You Learn How to Create a 300-Word Essay
Very often, 300-word essays are given to learners as home assignments in high school. This task is a great opportunity for the students to demonstrate their level of preparation, as well as their writing skills and knowledge of the subject. Such an essay is pretty short and easy-to-read, which makes it possible for the teachers to evaluate the students' writing skills easily. At the same time, the brevity and simplicity of a 300-word essay may confuse the student, who may think that writing such an essay is an easy task. Even the most talented students may fail this assignment especially if they do not know answers to the questions:
What is a 300-word essay?
How long is a 300-word essay?
How to write a 300-word essay?
What are the main elements of a 300-word essay?
In our handy guide, you will find answers to these and other questions, that will help you write a superb 300-word paper and impress your teacher.
How Many Pages Is a 300 Word Essay?
Everything depends on your settings. If you write your essay in Times New Roman font 12 size, your essay will probably take 1 double-spaced page. The way your texts appears on the page depends on the length of the paragraphs and their number. Either way, your essay should not exceed the allowed word count – 300 words. If you are writing your text single-spaced, it will take two-thirds of a page.
Pages by Word Count
If you want to know a 300-word essay how many pages, find out a simple table below. Using this table, you will be able to count how many pages your word count will take. You can choose either Arial or Times New Roman font and spacing needed.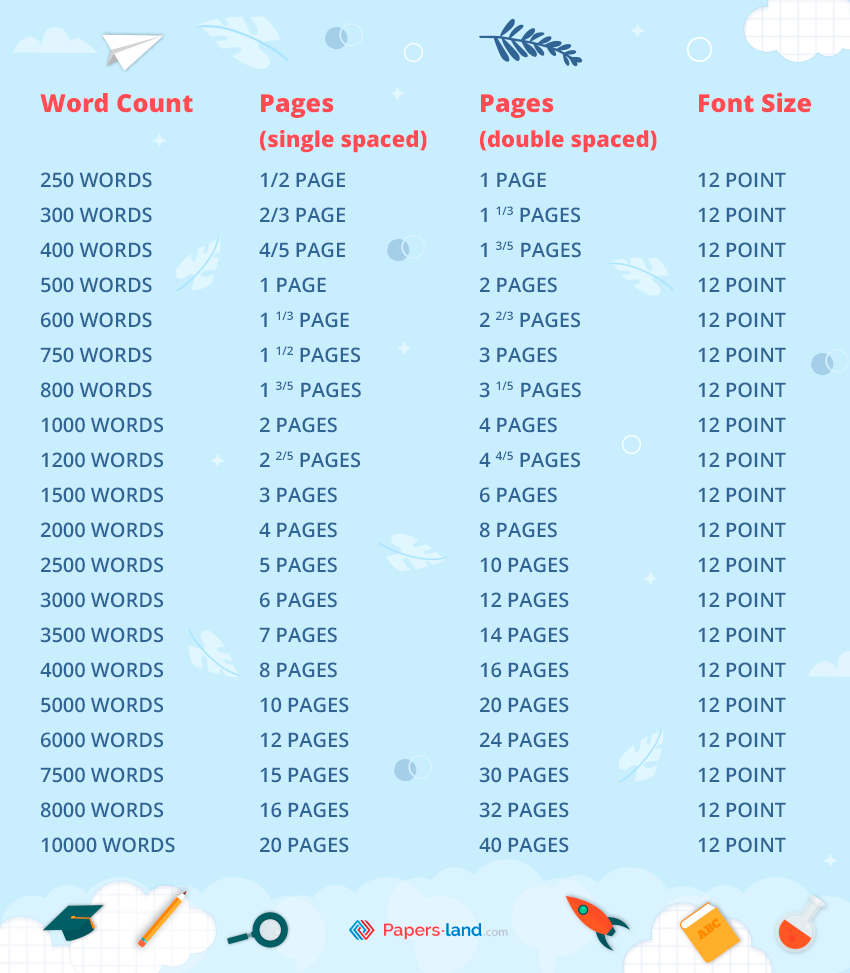 300-Word Essay Formatting Tips
Please, note that you will find a detailed explanation of your task in the professor's guidelines. However, regardless of the guidelines, you will need to follow the common structure accepted by the standards of academic writing. Below, you will find a brief information on 300-word essay format.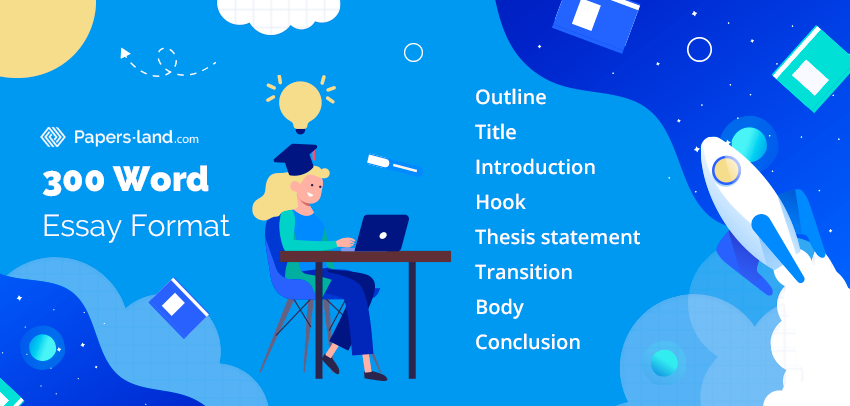 Outline
Writing an outline is a particularly important stage in the writing process. You should not underestimate its value because your outline serves for organizing your thoughts and ideas in the right order. Writing your outline well, you make the writing process easier because having a good plan, you will move from one part to another smoothly. Your outline should include an introduction, main body, and a conclusion, along with the main points that will be introduced in these parts.
Title
Formulating a good title for your 300-word essay may take much time. Many students prefer writing their titles only when the rest of the paper is ready because this strategy allows them to make up the best titles. Considering the fact that your essay is pretty short, writing a long title would be quite inappropriate. As such, we recommend you to make your title maximally clear and concise. At the same time, it should grab the reader's attention making him or her want to read the whole essay. Make sure to center your title and make it bold. Finally, do not forget to stick to the rules of the formatting style mentioned in your guide;
Introduction
An introduction is your opening paragraph, which should clearly explain what is the topic of your essay, and why did you choose it (if it was your choice, of course). Given the fact that your essay is pretty short, your introduction should not be lengthy. Usually it takes only 40-60 words to fit other parts of the essay. If you decide to write an introduction after the main body is written it will not be a problem;
Hook
To engage your reader and make him or her get interested in your essay, you need to make up a good hook. It is a statement that is formulated in such a way to burn interest in your reader. It can be a philosophical quote, statistical fact, etc.;
Thesis statement
A thesis statement is the main idea of your essay. It is usually written at the end of the introduction and presents the idea that holds all the arguments together. With the help of your thesis statement, you narrow down your topic and tell your reader what is the main focus of your essay;
Main body
Pay attention that you need to develop your arguments in such a way to fit the required word count. Most probably, your main body will allow you to write two or three paragraphs. Each of these paragraphs should begin with a topic sentence, which is related to the thesis statement stated in your introduction. In the main body, it is appropriate to use in-text citations proving your arguments;
Conclusion
The last paragraph of your essay aims to wrap up your discussion without introducing new information. In your conclusion, you need to restate your thesis statement, as well as key points that were mentioned in the previous parts of your essay. Although your conclusion will be only 3-4 sentences long, it should make a good impression on your reader.
How to Write a Great 300-Word Essay?
If you find it difficult to understand how to write a 300-word essay, have a look at our guide and you will understand how to organize the writing process properly:
Choose a Good Topic
A good topic is, perhaps, the most important thing when it comes to writing a 300-word essay. It should be relevant, engaging, and intriguing in order to fit the interests of your target audience. If your professor allowed you to select the topic on your own, you should make preliminary research and pick up the best subject.
Find Relevant Data
Before you start writing your essay, you need to prepare well. In particular, you have to find several credible academic sources that will help you understand what perspectives of your topic still need analysis. Go to the library and find some books or articles related to the subject of your essay. Noting good quotes that will prove your arguments is a good idea, but do not forget to cite them in accordance with the style indicated in your prompt. When studying these sources, do not forget to write down the bibliographical information as it will help you write your list of references.
Plan Your Work
Although planning is usually associated with long papers, you should not underestimate its importance in essay writing. Keeping your ideas in the right order is the necessary requirement for writing a good essay. After brainstorming your ideas, make sure to write an outline that will include the main points you want to discuss in your essay. Do not try to embrace all the aspects of the topic of your essay because focusing on too many elements, you will not be able to discuss them in detail.
Find a Good Example
If you want to find out how your essay should be organized and how your arguments should be developed, we recommend you look for the well-written samples of 300-word essays available on the web. Having a great sample in front of your eyes, you will get a clear understanding of what a 300-word essay looks like. However, be cautious when looking for the samples because downloading your sample from the random website, you will get the paper of low quality. You need to be very careful when searching for online databases because only trustworthy websites will provide you with great papers.
Proofread Your Essay
It is hard to imagine the writing process without an editing stage. Editing is a particularly important process that allows the writer to fix all mistakes undermining the quality of the paper. If you want to edit your paper well, make sure to treat this stage seriously. After you are done with writing, put your paper away, and relax. In a while, you will be able to look through your paper with fresh eyes, which will allow you to fix all the mechanical mistakes you could commit when working on your essay. When editing your essay, do not rely on the automatic grammar checkers as they have a limited set of rules. Only by combining the automatic check with the manual proofreading, you will be able to get the best outcome and polish your essay until perfection. Remember that although your essay will be evaluated mainly for its content and structure, the obvious grammatical flaws will not allow your teacher to put a high mark.
300-Word Essay Writing: Things to Avoid
Writing a 300-word essay may seem a very easy task, however, even despite its simplicity, you can make mistakes. If you do not have sufficient experience or writing skills, making mistakes is inevitable. However, we are going to provide you with a list of things that should be avoided if you want to get a good grade.
First, do not exceed your word count. The characteristic feature of this essay type is brevity. As such, by exceeding your word count, you will violate the common standards accepted in academic writing;
Second, do not include vague or inaccurate ideas. Given the pretty limited word count of your essay, all your arguments should be clear, concise, and strong;
Third, do not focus on too many aspects. Picking up the topic that is too broad, you will definitely fail to analyze it properly;
Fourth, do not skip the proofreading stage.
Of course, there are many other things to avoid when writing your essay. If you want to get a good grade for your paper, you should take care of every single detail of your writing process. However, if you feel that this task is too challenging or confusing, do not hesitate to purchase your essay at a trustworthy online writing platform.
Buy a 300-Word Essay Here and Improve Your Academic Performance!
You do not know how to write a 300-word essay? Cannot understand how many paragraphs is 300 words? If academic writing is not one of your strengths, you can always turn to a reputed writing company and ask for professional assistance. Our platform is the best provider of custom essay writing help to the students worldwide. You can entrust your assignment to our team of professional writers, who have the necessary skills and qualifications to cope with the most sophisticated academic tasks. Our writers specialize in diverse disciplines including Management, Nursing, Biology, Politics, History, Art, Marketing, Psychology, Anthropology, Business, Economics, and many others. No matter how difficult your topic is, we will find an appropriate expert to work on your order. Pay attention that we can help you with not only a 300-word essay, but also many other academic tasks including personal statements, research papers, case studies, term papers, and many others. Buying your essay here, you can be sure that it will be written, structured, and formatted in accordance with the highest academic standards. Your professor will be truly surprised by a professional approach taken in your essay. Cooperation with our writing company is pretty easy and effortless. All you need to do to get a great essay is to provide us with detailed requirements including the topic of your essay, discipline, the number of sources to be used, length, formatting style, and many other task-related details. Next, you need to set a reasonable deadline and pay for your essay. If you want us to complete an urgent assignment, you have absolutely nothing to worry about as our writers can successfully handle the most urgent tasks. When the order is verified in the system, we will start working on it right away not to waste precious time. If you would like to be involved in the process of writing your paper, you may chat with your writer in the system and monitor if he or she is on the right track. When the order is completed, it will be uploaded to your personal profile where you will be able to download it when your deadline expires. Make sure to look it through and let us know if any corrections needed. As a responsible writing team, we take full responsibility for the papers we write. Thus, if the client needs a revision, they have 48 hours after the order delivery to send free revision requests.

Calculate the price
So, if you have no time or writing inspiration to work on your paper, do not think twice and get in touch with our professional writing team. From the moment you contact us and until the successful submission of your essay, we will surround you with excellent care and support.
What our customers say

Floyd
You helped me a lot! I received an excellent research paper from your writer!

Jan
My paper is perfect! I got A+ with your help! Thank you!

Steven, LA
Thank you for an appealing piece of writing. Additionally, I am grateful for a good abstract. It was stunning!

Sophie, FL
Great job! I'm satisfied that all my requirements were taken into account! As far as I've got a high mark for my home assignment, I can boldly suggest papers-land.com.

Jack, PA
The quality of my research paper was just perfect and the company met a deadline. So if you are still in doubt whether to order a paper at this writing service or not, I can recommend you take a right decision and to make an order!

Amanda, WA
I'm grateful to this service because my essay was considered by my teacher as the best one among others. I'll definitely apply to this company again.

Ryan, CA
The biggest challenge I always face is to write briefly. So that I didn't find a better solution than just to make an order at papers-land.com. That was a right decision because the company completed the task splendidly!