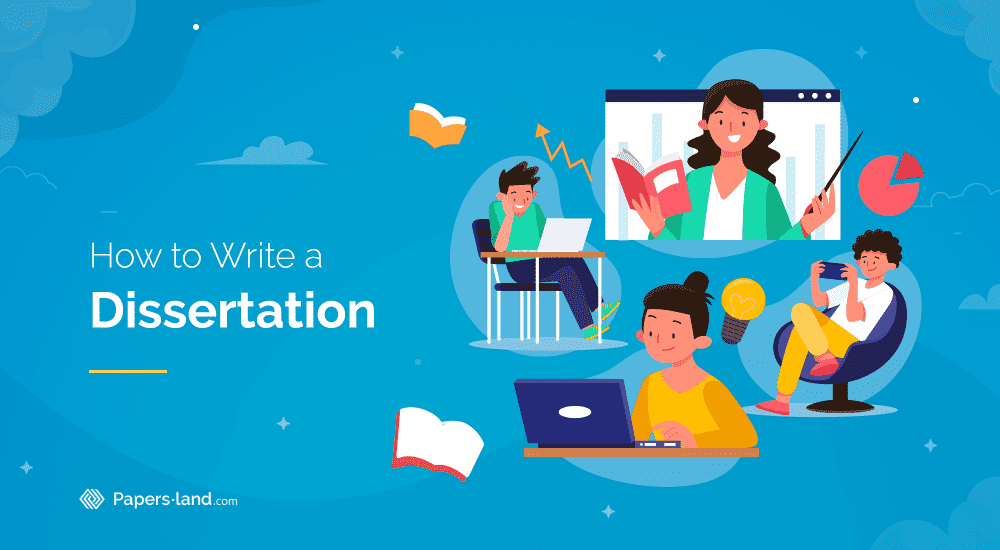 How to Write a Dissertation Perfectly: Comprehensive Guidelines from Experts
If you are currently working on a dissertation, it means that you have come closer to the end of your educational journey, so it should be essential for you to know how to write a dissertation perfectly. As a rule, dissertations are written when one is obtaining a doctoral degree. When working on this research project, a student is required to demonstrate the acquired skills and knowledge in a specific subject area. Apart from excellent writing skills and fluency in conducting research, a student should possess critical and analytical thinking skills. Besides, it is also important to conduct original research and to report on brand-new findings that may also make a contribution to the overall research area. In other words, the research should be valuable for the scientific and academic community. Another essential aspect of writing a dissertation is that it should be interesting for the readers and it should be acclaimed for publication in some scholarly journal. Overall, not only your knowledge but also mindset is important when working on a dissertation project. To ease this dissertation writing process for you a bit, we have prepared a set of tips and guidelines on how to write a successful dissertation. Even if the guidelines provided below will not help you succeed with your writing, you can always turn for help to our best dissertation writing service.
What Is a Dissertation?
The dissertation is the final academic writing project that students of doctoral program have to submit and present before obtaining their PhD degree. In some cases, this term is also used for the final paper that doctoral candidates have to submit before gaining the degree.
In essence, it does not really matter whether we mean a PhD dissertation or an undergraduate dissertation. The requirements of the paper, formatting, as well as structure, are similar. The following guidelines will come in handy for both or PhD and undergraduate students, and even to students who are working on their Master's level thesis papers.
Why Is It So Challenging to Write a Dissertation?
When students just begin to write a dissertation, they may start this process full of excitement and enthusiasm. They may be really passionate about conducting research, but the project can rather soon become a really intimidating one. When writing your dissertation, you need to be aware that the very process of working on it is complex, so you should be aware of all its parts, such as planning, data gathering, literature review, research, and the very process of writing. Normally, out of all these steps, the processes of planning, research, and writing are the most time-consuming and lengthy ones. The ultimate result will of course be rewarding, but you need to be aware of the obstacles that you will encounter in the process, so check them out:
Procrastination. Since a dissertation is a long-term project where a student is given the whole year to work on it, it always seems as if there is plenty of time to work on the paper. It is natural that students delay the starting point as much as they can. However, as the deadline is closely approaching, students may feel really stressed and anxious. Resultantly, because of procrastination the whole research and writing processes may be spoiled.
Lack of research. When students have to collect data for the research, they have to study numerous academic and peer-reviewed sources taken from reliable and credible databases and libraries. However, there are some topics that are poorly researched. Therefore, it is recommended to check on the research in your subject area as early as possible so that you know how hard or easy it is to investigate the issue.
Insufficient writing skills. When working on a dissertation project, it is essential to be able to provide ideas in a logical, consistent and comprehensible way. Proper writing style and form should be maintained, and you should also use appropriate language.
Shortly, these are some of the main obstacles and challenges that you may face once you start working on the dissertation. However, it does not mean that you will never be able to tackle the assignment. Our professional writers have also provided a list of guidelines that will help you move in the right direction with your writing.
How to Write a Dissertation Step by Step
Below you will find the main steps on how to write a dissertation consistently:
Step 1: Think what you would like to write about. In this step, you need to select the topic. If you have no idea so far what exactly you would like to write about, do some brainstorming and pick a few topics that you are interested in. Afterwards, you need to narrow down your focus and choose one that you like best. You can even contact your academic supervisor to help you out on the stage of selecting a dissertation topic. After you choose the topic, you need to identify the core concept and try to focus on the main idea of your research.
Step 2: Craft an outline or a plan for your work. It is essential to have an extended plan for your dissertation writing since the project is lengthy and you can easily forget to include some ideas or concepts. However, when you have a plan in front of you, it will be less likely that you overlook some essentials. So, schedule this process of planning and pay enough attention to it.

Step 3: Follow the structure and start writing. The basic structure of the dissertation should be quantitative and deductive if you follow the structure below:

Introduction

Identify the scope of research.
Highlight the significance of your dissertation topic to the whole research area.
Outline aims and objectives.
Formulate the research questions and hypotheses.
Provide some background information on the topic if needed.
Formulate what main idea or argument you want to support.

Literature Review
Critically analyze the main research problem within the realm of the existing studies and theoretical concepts. This section should look like a critical discussion rather than a mere description of sources and the gathered evidence. Be sure to rely only on those sources that are relevant to the research topic.
Methodology
Focus on the research design and describe in detail what data you collected and how you did it. Provide information on the data analysis and methods used. You may also include information on how you have selected the sample and the research setting.
Findings
Provide a concise summary of data, including a visual representation of the results, such as charts, tables, diagrams, and others.
Discussion
This section may be combined with the former one. In short, if you have not addressed findings above and have not reflected on them, it is just the right time to do it in this section. You need to relate the findings to the research questions that were provided at the beginning of the paper. Also, discuss the limitations of the study and its future implications.
Conclusion
Summarize the main information from the dissertation. Focus on the main aspects learned in the research process. Highlight on what should be learned from the process and what you could have done differently.

Step 4: Organize the sources used in the paper. The research should be properly cited, so be sure to organize the references in a proper way. You will need to find only credible and peer-reviewed sources that are also up-to-date. So, make sure you devote enough time to this process and use only reliable sources.
Step 5: Edit and proofread the content before submitting the paper. The paper should be properly written and structured, so make sure you double-check all the requirements after you have completed the dissertation. Besides, you need to be sure of how long is a dissertation since word count really matters. Check on whether appropriate vocabulary is used, whether the structures are relevant to the context. Avoid using first-person pronouns unless you are providing your own opinion.
Step 6: Always cite sources that you consult. Whenever you provide information taken from outside sources, be sure to cite it according to the required citation style. If you do not ensure citation of the information taken from the other sources, you will most probably be accused of plagiarism. In order not to put your academic reputation at stake, you are encouraged to provide in-text citations.
Step 7: Ask your friends or group mates to take a look at your dissertation and provide you with feedback. Of course, your friends or family members are not experts in your dissertation topic, but you may at least get feedback from them on how readable and comprehensible your paper is. Besides, some sentence, grammatical or punctuation mistakes may be spotted as well.
Hopefully, these steps in writing a dissertation will help you manage your paper if you plan to write a dissertation on your own. If not, you can address our company and get expert writing help.
Useful Dissertation Writing Tips
Dissertation writing tests not only your professional expertise, the ability to conduct research, and writing fluency but it also tests your work ethics and principles of academic integrity. Check out some useful tips that will help you come up with a successful dissertation:
Keep your calendar. Schedule the time you will work on the dissertation. Mark the deadlines and indicate the most important milestones you want to achieve. The schedule will help you be more organized.
Cooperate with colleagues. Consult your peers or colleagues for help whenever you need assistance. It will help you take a look at some problem from another perspective and also to focus on things you might have otherwise missed. All in all, you could simply ask for feedback.
Take breaks from work. It is essential for your brain to receive good portions of sleep and relaxation.
Use sticky notes in the process of working on your project. They are perfect for jotting down some ideas that suddenly come to your mind.
Cite the sources that you are using immediately. Many students postpone the process of organizing references till the paper is completed, but we do recommend to add in-text citations right as you are referring to the sources.
Consult your professor or academic supervisor for help. Do not be afraid to turn to your academic supervisor for help. They are here to assist you with advice since they know better what requirements you need to follow.
Despite the fact that you can find plenty of recommendations on the Internet on how to write a dissertation, it may still be really challenging to cope with those requirements. Therefore, in cases when you are struggling with the assignment, a wise decision is to consult a professional custom writing service for help. By ordering a dissertation from professional writers, you can get a lot of advantages from this cooperation. You are guaranteed to receive a top-notch quality paper according to the set deadline. Our company operates 24/7, so you are free to place your order at any time of the day or night.