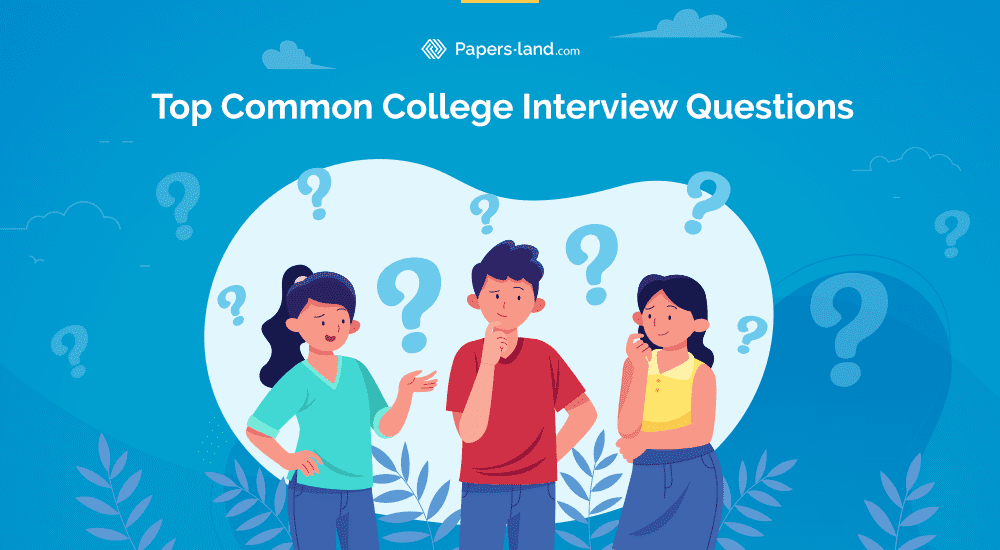 Top 7 Common College Interview Questions
The college interview is an integral part of the college admission process, particularly when your objective is a top-notch educational establishments.
Sometimes students focus all their attention on all-round preparation for the admission representative's questions trying to show themselves at their best. However, one should also keep in mind that asking the right questions is equally important. Jodi RosensheinAtkin, a Rochester, New York–based college admissions consultant is convinced that asking questions about the information which is available on the web is not advisable, as doing so is indicative of a lack of interest and bad preparation.
Thus, it will give you a head start if you come up with relevant and considered college interview questions. By doing this, you will not only find out more about your longed-for universities but will also give an impression of an inquisitive and promising student.
If you are still baffled by what to ask, look through the following common college interview questions: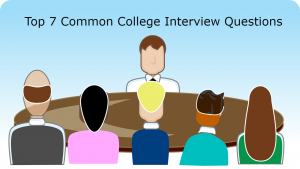 Could you give me more information about the ABC and XYZ programs? I cannot decide on the program of study I want to follow.

This methodical question speaks volumes about you. In particular, questions about programs of study mean that you are not only mulling over your academic path but planning out your goals at their institution.

What kind of internships have students done over the past years?

Asking about career services and opportunities to apply your practical skills indicates maturity and your career-oriented approach to studying.

What makes your school stand out among other universities?

Such a question indicates that you are drawing a line at top schools and are aiming at the best one.

I read in the school newspaper that students are concerned about XYZ issue. Can you dwell on it?

This question shows that you not only took the trouble to read a school newspaper, but you also display interest in students' life issues.

How would you describe a typical weekend or weeknight on campus?

Some universities offer more eventful and colorful campus life than others and the differences will become evident as soon as they answer this question. Do students idle about or go home during non-class hours, or is their life so hectic that students are swamped the whole weekend? Are there campus-organized events, or do students amuse themselves elsewhere?

If you were given a chance to change one thing about your school, what would it be?

This question might perplex the interviewer but it is helpful in sizing up the potential drawbacks of the school and how they deal with them. If you are swaying between a few schools, the things you will find out due to this question can be decisive in your selection.

If you could vouch for one feature of your school to every student, what would it be and why?

Their answer to this question unveils school's values. Also, it is a splendid opportunity to see if what the college holds significant is also something you are interested in. Do they represent a top-class faculty and up-to-the-minute facilities? Do they promote carrying out research? Is it their goal to graduate highly-qualified, decent citizens?
How to Get Prepared for College Interview Questions?
To keep all those questions in mind, make some notes. Do not write out your answers and swot them. Otherwise, you will sound artificial. Besides, when memorizing your answers, you can forget your notes and end up looking perplexed and unsure of yourself.
To be on a safe side, conduct a so-called mock interview by asking somebody to give you these questions and then answering them as if the interview was real. Mind that your task is to stand out among other applicants and t be as detailed as possible.
How to Give Sensible Answers to the Questions You Are not Prepared for?
Beyond doubt, the questions cannot be limited to the ones presented above. The odds are high that you will get an unexpected question. There is no reason to worry, though. Just try to provide honest, detailed answers. As long as you position yourself mindfully and professionally, worrying about unexpected questions is undue.
To boost your confidence before an interview, ask your friend or parents to give you questions about yourself, and respond as if you were in the interview.
In case you are lacking the time or writing proficiency to write your interview essay well, you can always contact our writing service. Just order your college interview paper from us and you will never regret your choice!