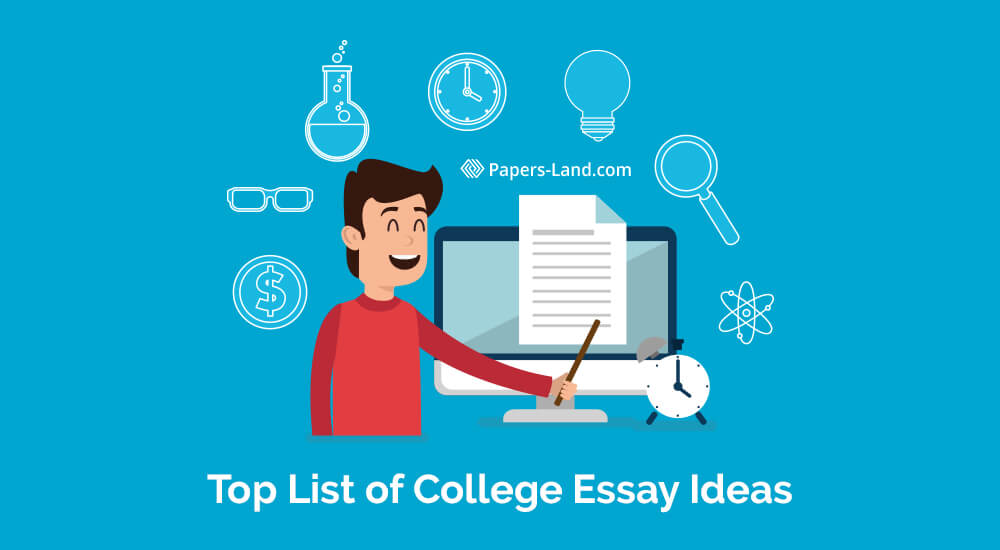 The Best List of College Essay Ideas
Essays are an indispensable part of college life. In fact, students start writing essays already during the admission stage, when colleges ask to submit personal statements along with other documents. These essays are of paramount importance because they can significantly raise or reduce your chances of getting into the college of your dream. Therefore, you have to select a good topic that will help you create a powerful essay. We have collected the best college essay ideas for you. You can use these creative college essay prompts as they are or as the basis for your own college essay ideas. In case you were not provided with essay prompts for college, you can use the ideas below.
Writing Prompts for College Students
Can you recall a situation in which you think you failed to achieve your goal? Describe the lessons you learned.
When it comes to making a choice between taking a risk and following a more certain plan, which decision do you usually make? What about the last time? What were the results of your choice? With the benefit of hindsight, would you make the same decision?
Choose a book, song, or movie that has had a profound impact on you. How did it influence your worldview? Why?
Discuss an experienced that has significantly changed your opinion about some issue.
If you had a chance to interview any prominent figure in human history, including people who are now deceased, who would you choose and why? What would you like to ask them? How would their answers help you solve important issues?
In your opinion, what is the most powerful social movement of the 21 century? Why do you think so?
Imagine you have to compose a list of important pieces of advice for high-school students. What would be your recommendations?
College Essay Ideas for a Personal Statement
Why did you decide to dedicate four years of your life to college? Do you think you have made the right choice?
What are your plans for life after college?
Discuss the short-term and long-term goals you have.
Describe a unique skill you have. How does it make you different from others?
Think about your extracurricular achievements over the past three years. Which one of them is the most significant?
Choose your favorite quotation and explain how it defines you.
Create a question that is not on the list of college admission essay prompts and answer it in detail.
If you had to write a 600-word biography of your life up to this moment, what would it be like?
Supposing there is only one admission place left, why should the college of your dream choose your application rather than someone else's?
Unique College Essay Ideas
Discuss the impact your neighborhood has had on your character.
Think of an invention that has negatively affected the world. What was the invention and how would the world be different without it?
Do you think it would be useful for people to have the ability to change some important moments in their life? Would you like to change something in your life? What would it be and why?
Imagine your soul could reincarnate in in any animal known to the humanity, which one would it be? Explain your choice.
If you could spend two weeks of your life in any period in history, where would you go? Would you go on your own or invite someone with you?
No matter which topic you choose, whether from these college essay ideas or a topic of your own, try to write an essay in a way that resonates with your identity. College admission officers read dozens of essays every day, so try not to submit a typical cliché. If you need college essay ideas help, think of one of your character trait or an aspect of your family or neighborhood life that seems to be truly unique. Then weave this aspect into the story you are telling. One of the most valuable college essay ideas you can follow is staying yourself and letting your individuality and enthusiasm shine through your personal statement..