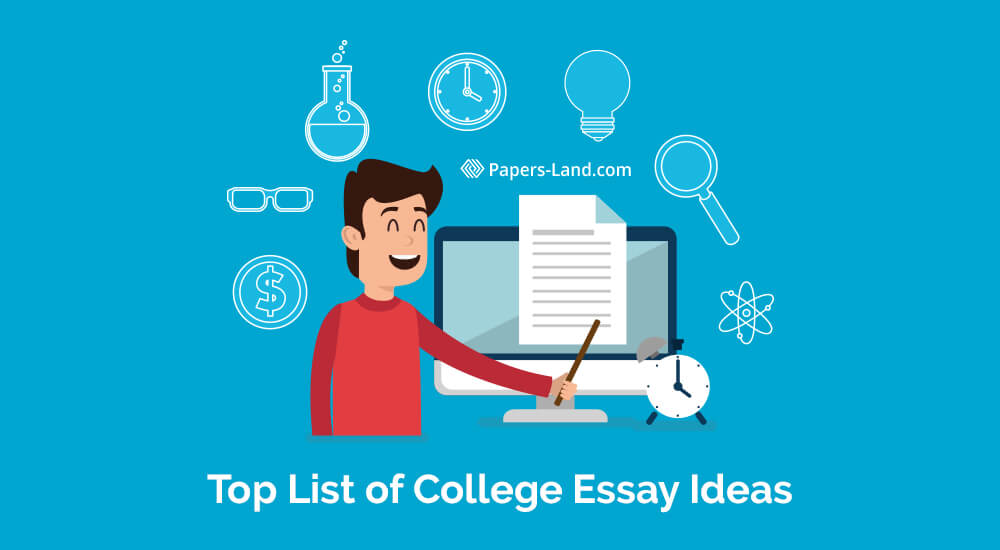 The Best List of College Essay Ideas
Essays are an indispensable part of college life. Students start writing essays already during the admission stage, when colleges ask to submit personal statements along with other documents. These essays are of paramount importance because they can significantly raise or reduce your chances of getting into the college of your dream. Therefore, you have to select a good topic that will help you create a powerful essay. We have collected the best college essay ideas for you. You can use these creative college essay prompts as they are or as the basis for your college essay ideas. In case you were not provided with essay prompts for college, you can use the ideas below.
I Have no Idea What to Write My College Essay about. What should I Do?
Do not get upset! It is not a problem if you do not have experience in creating solid college essays demonstrating your writing skills and abilities. This article includes helpful tips and rules by following which you will learn to write the pieces of writing that will help you stand out from the crowd. Thus, keep reading!
Scanning the List of College Essay Ideas
First, you should reject the stereotype that a good paper is the one created on a breathtaking topic. Even if the chosen subject seems quite ordinary (e.g. your favorite movie, the value of friendship, and alike), it is possible to create a fascinating paper proving that you possess remarkable writing and research skills. You should keep in mind that the manner which you describe your experience in your application essay is considered more valuable than the very experience.
Note that the admission boards understand that the applicants have different opportunities. It is apparent that your location, family background and other factors do influence the experience and knowledge which you have gained while studying at high school. For example, you will not be penalized in case you have not had enough financial resources to visit different counties or undertake some activities.
It is essential to admit that a paper highlighting an extraordinary topic can help you outshine other applicants. Nevertheless, the application process is something more than just a contest where the one with more valuable experience in a specific area wins. Remember that you may not be able to describe your experience in your essay even if it is the greatest one in case it does not match the prompt.
Down below, there are some questions that will help you understand how to find an idea for your college essay:
What was the last news which you considered engaging? This query can help you determine the things which you are keen on.
Which of your achievements do you find the most significant? What does it make you have pride in? These questions can help you understand which of your personal qualities you find the most valuable and think that the educational establishment you are applying to should know about.
When have you felt the most intense irritation and why? How was the situation handled? Here, you may talk about anything ranging from a school performance to a vital matter influencing your life.
What subject have you investigated recently for broadening your knowledge? Have you done extensive reading? The members of the admission board will be pleased to find out about the sources you have browsed and the information you have learnt.
How have your community helped you grow as a personality? What is the most precious about your community? If you choose this topic, you may write not only an interesting but also an informative essay that will help the admission committee learn more about yourself.
Have you reconsidered some your latest decisions about something important recently? When selecting this college essay idea, you will be able to talk about the matter that plays a great role in your life. What is more, you will get a chance to explain how you have become the one who you are today.
You may also consider the list of college essay ideas suggested by the educational establishments which you are not going to apply to. Some of the presented topics may give you a hint about the matter which you would like to build your essay around. You may also surf some educational blogs available on the Internet to get some fresh ideas for your application paper.
Writing Prompts for College Students
Can you recall a situation in which you think you failed to achieve your goal? Describe the lessons you learned.
When it comes to making a choice between taking a risk and following a more certain plan, which decision do you usually make? What about the last time? What were the results of your choice? With the benefit of hindsight, would you make the same decision?
Choose a book, song, or movie that has had a profound impact on you. How did it influence your worldview? Why?
Discuss an experienced that has significantly changed your opinion about some issue.
If you had a chance to interview any prominent figure in human history, including people who are now deceased, who would you choose and why? What would you like to ask them? How would their answers help you solve important issues?
In your opinion, what is the most powerful social movement of the 21 century? Why do you think so?
Imagine you have to compose a list of important pieces of advice for high-school students. What would be your recommendations?
College Essay Ideas for a Personal Statement
Why did you decide to dedicate four years of your life to college? Do you think you have made the right choice?
What are your plans for life after college?
Discuss the short-term and long-term goals you have.
Describe a unique skill you have. How does it make you different from others?
Think about your extracurricular achievements over the past three years. Which one of them is the most significant?
Choose your favorite quotation and explain how it defines you.
Create a question that is not on the list of college admission essay prompts and answer it in detail.
If you had to write a 600-word biography of your life up to this moment, what would it be like?
Supposing there is only one admission place left, why should the college of your dream choose your application rather than someone else's?
Unique College Essay Ideas
Discuss the impact your neighborhood has had on your character.
Think of an invention that has negatively affected the world. What was the invention and how would the world be different without it?
Do you think it would be useful for people to have the ability to change some important moments in their life? Would you like to change something in your life? What would it be and why?
Imagine your soul could reincarnate in in any animal known to the humanity, which one would it be? Explain your choice.
If you could spend two weeks of your life in any period in history, where would you go? Would you go on your own or invite someone with you?
Amusing Essay Topics
Would the actions of Spiderman be considered lawful in real world?
4D versus 5D. Should people expect the next stages of the development of video?
Can robots pose threat to people as it is shown in movies?
Are there such families as the Addams in real life?
The issue of graffiti. How can it be resolved?
It is better to legalize marijuana?
Should parents punish their children?
Music, Movie, and Art Topics for Essays
Are artists paid fairly?
Can movies and music be considered a form of art?
Can it be stated that gothic art is the most enjoyable and fabulous from all other styles of art?
Is it possible to achieve success, reach one's goals and build a brilliant career, when working in the art area?
Can at least some of modern songs be considered educational?
Modern lyrics and the youth.
Short movies versus the long ones.
No matter which topic you choose, whether from these college essay ideas or a topic of your own, try to write an essay in a way that resonates with your identity. College admission officers read dozens of essays every day, so try not to submit a typical cliché. If you need college essay ideas help, think of one of your character trait or an aspect of your family or neighborhood life that seems to be truly unique. Then weave this aspect into the story you are telling. One of the most valuable college essay ideas you can follow is staying yourself and letting your individuality and enthusiasm shine through your personal statement.
The provided list can be extended with numerous ideas among which you will be able to choose the one for your paper.
In case you do not know how to choose an outstanding topic, consider asking someone for college essay idea help. You may address either your parents or professor and ask for advice about the issues you are working on. They will help you identify the right direction.
What our customers say

Floyd
You helped me a lot! I received an excellent research paper from your writer!

Jan
My paper is perfect! I got A+ with your help! Thank you!

Steven, LA
Thank you for an appealing piece of writing. Additionally, I am grateful for a good abstract. It was stunning!

Sophie, FL
Great job! I'm satisfied that all my requirements were taken into account! As far as I've got a high mark for my home assignment, I can boldly suggest papers-land.com.

Jack, PA
The quality of my research paper was just perfect and the company met a deadline. So if you are still in doubt whether to order a paper at this writing service or not, I can recommend you take a right decision and to make an order!

Amanda, WA
I'm grateful to this service because my essay was considered by my teacher as the best one among others. I'll definitely apply to this company again.

Ryan, CA
The biggest challenge I always face is to write briefly. So that I didn't find a better solution than just to make an order at papers-land.com. That was a right decision because the company completed the task splendidly!
If you do not find the given tips rather helpful and need worthy examples of college papers, you are welcome to Papers-Land.com. Our experts can assist you in creating a top-flight piece of writing meeting your specifications.