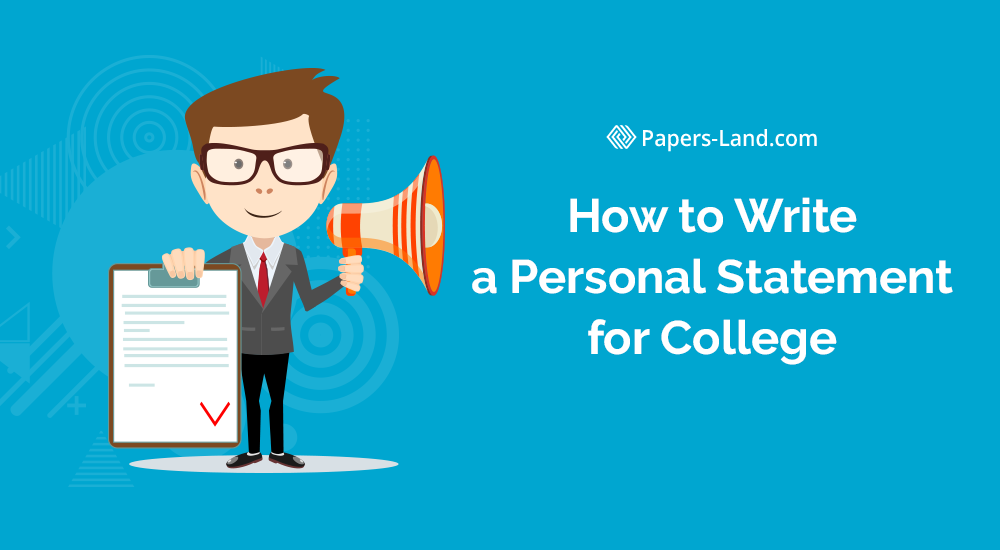 Learn How to Write a Personal Statement for College
Most applications are very dry. The students provide the information about their grades, classes, and grades, as well as other achievements and honors. However, a personal statement is the unique paper that expresses your personal voice, your experiences, expectations, and attitude to the surrounding world. In many cases, a personal statement is a fundamental reason for taking the positive or negative decision of the admission officer regarding the applicant. If you are not sure how to write a personal statement for college but want to improve your writing skills, we guarantee that our manual will become the source of important knowledge.
How to Write a Personal Statement for College? Knowing Your Purpose!
If you do not know how to write personal statement, you should start learning about this paper from understanding its purpose. In general, a personal statement is your opportunity to speak about yourself, your strengths, beliefs, and unique qualities, which make you different from others. Make sure to cover all points that were not mentioned elsewhere in your application but worth attention. Whereas all high schools, colleges, and universities have their own requirements to personal statement writing, in its essence, this task allows having a glimpse into your personality. You may wonder what a college officer wants to see in your personal statement? First and foremost, he/she wants to see an outstanding individual, who stands out from other applicants. Second, the application committee members want to make sure you can fit the educational institution with its ethical code. Therefore, if you want to make a great impression with your personal statement, do not hesitate to learn the information about the college/university you apply for.
How to Write a College Personal Statement?
If you want to create a perfect personal statement, you have to dedicate enough attention to the prewriting stage. If you do not have a specific topic, but needs to write about yourself, consider answering the following questions:
What are my strengths and weaknesses (do not emphasize your weaknesses because it will not bring you the desired outcome);
What makes me different from others?
Who are the people, who influenced me?
What were the experiences that shaped me into the confident individual?
What lessons did I receive from these experiences?
How my friends and family can characterize me?
We assure you that the answers to these questions will help you write a good personal statement for college.
Still Do Not Know How to Write a College Statement? Follow Our Suggestions!
We also recommend you to read your prompt carefully and choose the correct approach to writing your essay. The application officer reads hundreds of such papers every day, so you need to create the paper that will engage him/her from the first lines. Think about some hook that will grab the reader`s attention. It can be a joke, a quote, or some thought-provoking argument.
If you believe that after choosing the good topic, the hardest part is over, you are wrong. Even a good topic does not help create a great essay. To write a truly incredible personal statement example, feel free to download the personal statements available on the web. Beware of copy-pasting these papers since it will lead to the negative consequences to your academic reputation. However, using them for boosting your writing talent and imagination, you will be able to learn the essential details of the successful personal statement writing and achieve the desired outcome.
Also, you should not underestimate the proofreading stage. To bring you the best outcome, your paper should be totally free from any grammar and punctuation errors. We highly recommend you to wait some time before proofreading to be able to look at the paper with the fresh eyes. If there is a specific word limit, do not exceed it. When it comes to writing a college applications personal statement, more words do not equate to a better outcome. It is better to make every sentence meaningful and appropriate.
All in all, you need to understand that your personal statement is a wonderful chance to introduce yourself. So do not procrastinate but dedicate enough time to writing this paper. We assure you that the positive decision of the application committee is totally worth all your efforts!
We do hope that our personal statement college tips will help you understand how to write a personal statement for college, write a wonderful essay and achieve the desired goal!