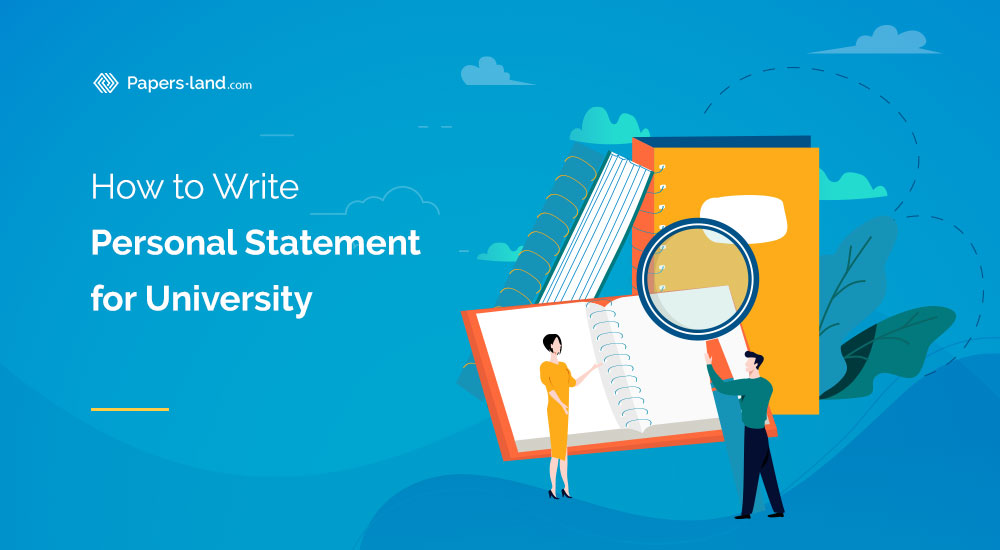 What Is a Personal Statement?
Before you learn how to write personal statement for university, you should clearly understand the nature of this task. So, a personal statement is an official document that should be written by an applicant, who wants to study in a certain educational institution. Such a paper is your chance to prove that you possess the skills, knowledge, and qualifications necessary for becoming a student at the desired university.
What a Personal Statement Is About?
It is about you. Believe it or not, but a personal statement is your unique chance to prove that you are a suitable fit for the university you apply to. If you are applying to different universities, do not even think to upload the same personal statement to each university because they should be customized and tailored to the specific instructions declared at the websites of these universities. Even if this assignment is pretty short in length, you should treat it very seriously because it is your chance to make an impression on the application board committee. If you have to work on a personal statement for university application but you lack the appropriate skills, we recommend you to follow our tips and suggestions that will help you create a winning piece, which will make the admission officers say "Wow! This boy/girl should definitely become our student!"
How to Write Personal Statement for University?
Look through the information provided on the university`s website to make sure you want to become a student at this educational institution. Learn everything about the courses, disciplines, teachers, and other important information that will help you understand if you have made the right choice. We assure you that knowing what kind of a student this university is looking for, you will be able to cope with your personal statement easily;
Think about why you can become a valuable asset at this academic environment. Are you ambitious? Do you possess the necessary skills and qualifications? Do you believe that the academic degree received at this university will help you succeed in the future? Tell about it;
Think about what makes you different from other applicants. Of course, you should realize that hundreds or even thousands of other students apply for the same position. Your task is to write your personal statement in such a way to persuade the admission officers that you stand out from other applicants. However, everything you tell about yourself should be true. By making up some information, you may fail the admission process;
Include the information about your extracurricular activities. Perhaps, you are a member of some sports club, music band, or creative society. Your extracurricular interests can tell much about you as a person. As such, think about what of your personal qualities can present your personality from the best perspective;
If you had any working experience, do not hesitate to mention it in your personal statement as it will prove that you are a responsible individual ready to overcome challenges to become successful.
Having no sufficient experience in personal statement writing, you may get stressed and frustrated. However, organizing your writing process properly, you will be able to create a marvelous personal statement that will engage the admission officers. One more tip that may help you succeed is to look for the well-written personal statement examples for university available on the web and try to figure out what information should be included in such a paper. We assure you that a brilliant sample personal statement for university can be a booster of your writing inspiration. However, do not forget that in order to bring you the expected grade, your personal statement should be absolutely original introducing you and your willingness to apply to the university.
How to Write an Amazing Personal Statement for University? Helpful Tips

Make a draft without paying attention to the word count. If you think that it is a great idea to count the words in order not to go over a limit is a good idea, you are mistaken. Actually, it is one of the common mistakes committed by the students. Yes, if you have to write a 600-word essay, you need to meet this word count but not in the first draft. Let us explain it in detail. After having 450 words written, you may start panicking because there is so much left to say and you have no idea of how to squeeze the text. When writing a rough draft of your personal statement, forget about word count, no matter how weird it may seem. If you write more, you will easily find out what information can be removed;
Take your time. "A personal statement can be written in only one hour." What a nonsense! Yes, writing a personal statement is easier than writing an academic research paper, but still, it takes a considerable amount of time and effort. If you do not have writing inspiration, take your paper away for a few hours or days if you have such an opportunity;
Use the best words and expressions. To impress the admission officers, you should demonstrate a professional approach when working on your personal statement. As such, it is always better to change "do" into "accomplish" or "opine" instead of "think." If English is your second language, you may use thesaurus but try to be very careful checking every unknown or sophisticated word in the vocabulary. Also, it is always great to have someone, who can look into your paper with fresh eyes and provide you with help with personal statement for university. When you ask your friends or parents to provide their objective opinion, your chances of getting a good result will significantly increase.
Focus on your strengths. Remember that your primary task is to "sell" yourself to this university. Being a kind of an advertising instrument, this essay should not include information about your weaknesses as it will significantly reduce your chances of getting a good grade. As such, we recommend you to focus mainly on your strengths because this strategy will bring you the anticipated outcome.
Start with a great opening sentence. It may take some time to create an impressive hook to engage your reader, however, you should not underestimate its importance. Every day, the admission committee officers read hundreds of standard papers full of boring sentences. If you want to prove that you are different from other candidates, you need to begin with the catchy opening sentence that will grab the reader's attention and make them follow the flow of your ideas.
Let your personal statement for university be about you. Yes, you will find many examples of personal statements available on the web. Of course, you may use them for improving your writing skills. However, by copy-pasting from these papers, you will not get positive feedback. Remember that you are a unique individual with interesting experiences and significant accomplishments. So, let the committee members learn more about you.
Be honest with your reader. We will not tell you that every word you include in your personal statement can be checked because it is obvious. If you can say, "Je t`aime," it does not mean that you know French. If you include some information, make sure to prove it with solid evidence. For instance, if you claim that you possess good leadership skills, you should provide the situation from your life in which these skills were demonstrated.
Ask someone to proofread your paper. Having someone to read your paper and provide their feedback on it is a wonderful idea. This person will easily recognize all the mistakes you could commit in your paper, which will greatly help to write a personal statement for university.
Read your essay out loud to make sure all information is accurate and relevant. Also, attentive reading will help you find the mechanical mistakes compromising the paper`s quality. Do not even think to submit your application paper without revising it.
Once you submit your personal statement, stop reading it. When the job is done and the personal statement is submitted, do not read it anymore searching for mistakes and getting nervous. Believe in yourself. You definitely did a good job and deserve the best outcome.

Personal Statement Writing: Things to Avoid

Never copy-paste the ready-made personal statements submitted by other students. By cheating on the admission committee members, you will get negative feedback;
Do not exaggerate in your personal statement. Instead, try to tell about the things happening in your life honestly. By pretending to be the person you not really are, you may lose your identity;
Do not rely on a spellchecker too much. Yes, the software may help you notice some mistakes bun only the manual check will bring you the best result possible;
Do not procrastinate or leave personal statement writing at the last minute. Remember that the more time you have on writing your application essay, the higher your chances of getting the expected outcome are.

Personal Statement Example
Now, when you are done with studying the personal statement writing tips, you may check out the free examples and modify your personal statement following them. We assure you that examining brilliant examples is the best strategy to learn how to write a personal statement for university.
Like this sample?
Get a paper like this only for $12.99/page
What Are the Biggest Challenges in Personal Statement Writing?
When the student has to write a personal statement but they lack the time, experience, or personal statement ideas for university, it may lead to stress or even frustration. After all, it is not easy to write a well-structured piece focusing on your strengths, experiences, and personal qualities without sounding too selfish. So, let us find out what are the main challenges experienced by students working on their personal statements.
Time pressure. Unfortunately, many students have to write personal statements in the most challenging periods of their lives. Therefore, they may find it pretty difficult to follow all the essential stages of personal statement writing. Leaving this task on the last minute may result in a bad result;
Following the personal statement format. Every university has its own requirements for writing such a document. If you are applying to several educational institutions, you will need to study the requirements of all of them. You are desperately Googling, "How to write a UCAS Undergraduate personal statement" and having no proper answer, you may easily get frustrated;
Making the essay unforgettable. Only the personal statement that stands out of others can bring you the best outcome. Sometimes, it may be pretty difficult to make your paper impeccable, however, we assure you that it is totally possible.
We do hope that our tips will help you create an amazing personal statement example for university applications. Remember that this paper is very important as it can define all your academic way. Good luck with all your endeavors!