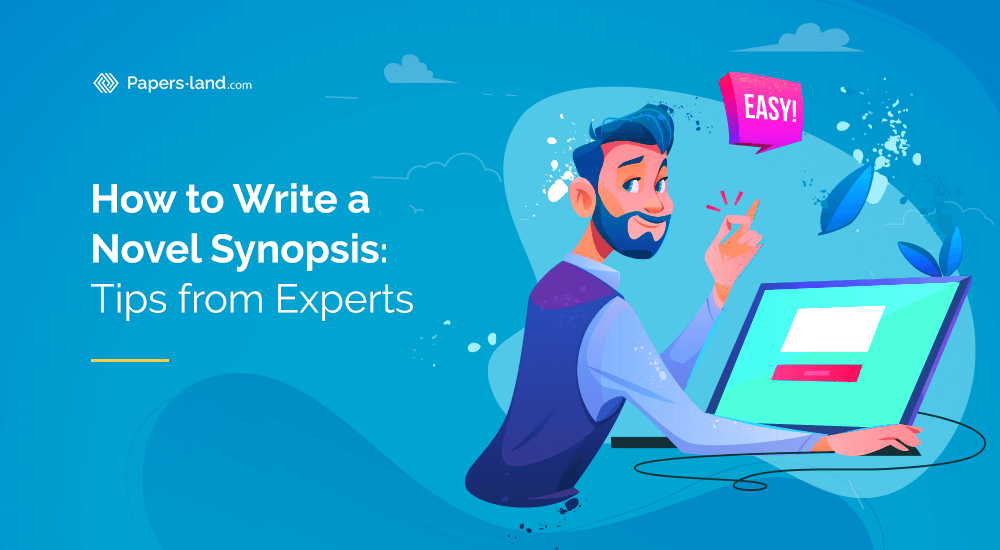 How to Write a Novel Synopsis: Strategies and Tips from Professionals
If you do not know how to write a novel synopsis, find out a clear and detailed step-by-step guide provided below. Normally, a synopsis is written after reading a specific novel. Particularly, it entails a coherent and logical summary of the main events. Sometimes, you may come across a synopsis at the beginning of the novel – somewhere on the first pages. Thus, it can be concluded that it is an essential part of the novel writing process. When the story is rather long, it is important to outline its key highlights and focus on the major events. Moreover, when it comes to more business-related matters, with the help of a properly written synopsis of a novel, the author of the book can be more successful in selling the novel for publishing to different publishing houses.
What is a Synopsis? Important Information
Before starting work on the novel synopsis, you need to provide a clear answer to the question, "What is a synopsis?" The very word "synopsis" has Ancient Greek roots, where the word denoted "a comprehensive view." As such, when you mean a synopsis of a novel, you would refer to a concise and brief summary of the story, namely the plot (or plots if there are multiple ones), storylines, conclusion, description of the main characters and their interaction, and overview of the main themes.
If one wants to send his/her novel for publishing, then it is a must to provide a novel synopsis, which the author needs to attach to the query letter for one of the publishing houses. The publishing and literary agents will use the book synopsis to get familiar with the literary work and determine whether the book is marketable.
Main Parts of a Good Novel Synopsis
As you are working on a novel synopsis, make sure that you pay attention to the mode of paper organization and the very structure of the piece of writing. As such, as you write a synopsis, make sure you focus on the following constituents:
Characters. Outline who are the protagonists and antagonists of your story. Also, indicate which of the characters are primary and which are secondary ones. It is recommended to specify which characters are the main ones in order to make them memorable from the very beginning – even prior to the actual process of reading.
Central conflict. Almost every story has a central conflict – and it is not about quarreling, arguing, or something like that, as many readers would think. A conflict of the story is actually the tension and the events that make the readers stick to it and read it till the end. So, it is recommended to provide a brief summary of the main story conflict.
Narrative arc. This phrase denotes the backbone (or the skeleton) of your story plot.
Effective Tips on How to Write a Synopsis for a Novel
Use third-person pronouns. Even if the very book is not written in the third person, make sure that you avoid first-person pronouns usage when writing a novel synopsis. First of all, it will make your synopsis look more professional and will also help you maintain a distance between the narrator (you) and your target audience.
Ensure the synopsis is brief and succinct. When working on your synopsis, make sure you maintain proper synopsis format: single-spaced text and the length ranges from 500 to 700 words.
Specifically mention the category. Categorizing your book (even though it may seem the storyline is beyond any category) will help your literary agent better understand how to sell the book and what its target audience is. Some of the popular categories may be the following: satire, fantasy, utopia, science fiction, romance, literary fiction, non-fiction, and so on.
Reveal everything without letting in on a secret. Try to evoke the interest of your readers by outlining the most interesting aspects of the book but without revealing the main secrets and story twists.
Convey your personal writing style. Make sure your voice becomes easily noticeable for your readers. Writing a synopsis in your specific writing style will help you to sell yourself as the author.
How to Write Synopses in Three Easy Steps?
Come up with a brief overview. Do not make the discussion too broad. Provide one sentence for each of the following points: a) how is the story's protagonist involved? b) what is the central story conflict that makes it develop? c) what is the world of the story you convey? d) what is the main thing that makes the story interesting? If you write at least 50-70 words on the above questions, your paragraph one of the synopsis will be completed.
Develop and outline. Start with introducing the main hero of the story and focus on the core conflict. Then provide a concise but clear explanation concerning which plot twist is most decisive/impactful on the main character. Also, mention the main story villain and how he/she interacts with the protagonist. Afterward, provide a description how the story's conflicts are resolved.
Provide the other details. So far, your synopsis is short and it contains only the main information. Now you need to expand it and add up more facts and details. You will need to find specific means of grabbing attention of your target audience. Make sure, however, that you do not reveal the ending.
Importance of a Novel Synopsis to Editors and Literary Agents
With the help of synopsis writing, you can make sure that the story becomes more clear and understandable in terms of the plot twists, conflicts, and characters interaction. Moreover, you make the story more realistic to literary agents. With the help of a synopsis, one can also unveil potential gaps, flaws, and inaccuracies in structure or, on the contrary, pinpoint to some positive aspects and surprising facts. If there is nothing engaging or surprising about your story or the plot is trivial, it may hardly be read.
A piece of good news: there are some literary agents who rarely pay close attention to novel synopses. More so, there are those who do not expect some outstanding quality of content – just proper language would suffice.
What our customers say

Floyd
You helped me a lot! I received an excellent research paper from your writer!

Jan
My paper is perfect! I got A+ with your help! Thank you!

Steven, LA
Thank you for an appealing piece of writing. Additionally, I am grateful for a good abstract. It was stunning!

Sophie, FL
Great job! I'm satisfied that all my requirements were taken into account! As far as I've got a high mark for my home assignment, I can boldly suggest papers-land.com.

Jack, PA
The quality of my research paper was just perfect and the company met a deadline. So if you are still in doubt whether to order a paper at this writing service or not, I can recommend you take a right decision and to make an order!

Amanda, WA
I'm grateful to this service because my essay was considered by my teacher as the best one among others. I'll definitely apply to this company again.

Ryan, CA
The biggest challenge I always face is to write briefly. So that I didn't find a better solution than just to make an order at papers-land.com. That was a right decision because the company completed the task splendidly!
Novel Synopsis Example: Learning the Basics
If you want to get a better understanding of the main features and principles of writing book synopses, you surely need to take a close look at the novel synopsis example provided below. If you do not know how to start a novel synopsis or how long should a novel synopsis be like, you are definitely recommended to visit some synopsis writing websites and explore a few novel synopsis examples.
A Prairie Home Zombie Synopsis
Chance McPrudence, who works as a schoolmaster, is definitely happy and satisfied with his quiet and modest life. He lives together with his sister on a farm in a small house somewhere on the outskirts of Riverside. He is a man who is deeply respected in the community and who is fond of what he does. More so, he likes spending time riding horses in the prairies. Once he suddenly comes across some stranger in his barn. From that moment on, McPrudence's life changes completely. He starts taking care of the stranger since the latter was close to her death but then McPrudence finds out that she is the infamous outlaw Hope Riverwild.

Hope Riverwild is notorious for the robberies done in six states and other criminal and illegal acts. She is definitely not the lady to be trifled with as she was armed with a tomahawk and a gun. Once she even cut off the finger of Billy the Kid. As Hope recovers and becomes strong again, she starts to sympathize with Chance McPrudence. Still, it is important for her to be careful since he would never fall into her. She is just out of his league as he is too handsome and settled to fall into her.

Hope is actually baffled by Chance's way of conduct. She is compelled to him and he actually seems to be a caring man. At one point, Hope comes to realize that Chance needs her just to help him care for his ill and homebound sister. However, in the end, something happens that Chance realizes his love to Hope and proposes her to marry him. However, this idea seems really strange and intolerable to Hope, so she leaves Chance's house and returns to her rebel life.

In his turn, Chance becomes mad with Hope's betrayal and cannot forgive her. Chance starts to reveal his true nature – he is not merely a modest teacher but he is actually a witchdoctor who can be really powerful. What is even more striking is that his sister is not actually ill but she is a zombie queen. Finally, Chance sends out his zombie queen to trace Hope and destroy her.

When they find Hope, she actually realizes that she will never be free until she deals with McPrudence on her own.