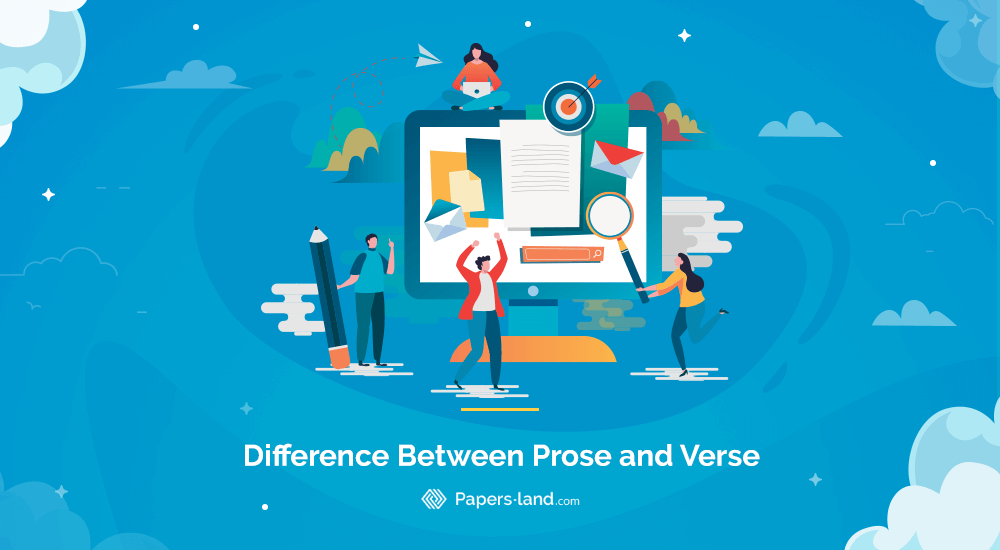 Have you ever read the book that involved you? Do you remember how, after reading a few lines, you just could not stop? Do you remember how you told your friends "You should definitely read this book because it will help you understand who you are!" You enjoyed reading this book just because its author was good at creative writing. Creative writing is a tool that helps the author involve the reader by reaching their mind and soul. A good book can make the reader burst into tears or laughter. It can help reconsider all the previous beliefs, opinions, and ideas. If the manuscript is original and well-written, it may bring enormous pleasure to the audience. In other words, creative writing is the author's way to interact with the audience sharing his or her experiences and ideas.

Calculate the price
Prose vs Verse: You Should Know the Difference!
If you are a beginner in creative writing, you need to learn the main differences between the prose and verse. No doubt, both of them play a significant role in literature. The essential difference between these concepts lies in the language structure. Whereas prose is always written naturally, a verse should follow a metrical structure. It means that the prose has a natural and original form whereas verse is used in poetry. An additional difference between prose and poetry is what the author portrays. In the prosaic work, the author describes what has happened and what is happening now. The author of the poetic work has more freedom in what he/she portrays. A poet can describe not only what was and what is now, but he/she can also use imagination to get unlimited space for the ideas' flight. Another difference between prose and poetry lies in how the author describes the subject. Whereas the writer provides a sufficiently clear concept of the depicted subject, the poet draws a vivid image through which one gets an idea of ​​the depicted concept. If you want to know more about prose vs verse, just keep reading our guide and you will find answers to your questions.
What Is Prose?
This term has Latin nature and means a direct and straightforward speech. Nowadays, the prose is the spoken or written language in its natural form. Prose has a grammatical structure and represents the natural flow of speech. Because of its artlessness and simplicity, the prose is widely used in both fictional and non-fictional writing, as well as in spoken language. What is more, it is widely used in films, magazines, novels, newspapers, etc. Do you want to know what is a main difference between prose and verse? Basically, the main difference is that prose lacks rhythmical structure as it is usually composed of grammatically correct sentences. In prose, sentences are combined into paragraphs. The prosaic language is always straightforward and free form additional decorations.
What Is Verse?
The verse is known as the language that is arranged with the help of a metrical rhythm. When it comes to verse language, one should now that rhyme and rhythm are its most important concepts. People use verses to express their thoughts and ideas in an artistic way. A poem is a synonym to verse. Comparing verse vs prose, you should remember that the verse language is always decorative. In verses, the author's ideas are written in lines and these lines are combined into stanzas. When it comes to writing verses, one should note that poets always have a limited number of words to explain their ideas to the audience.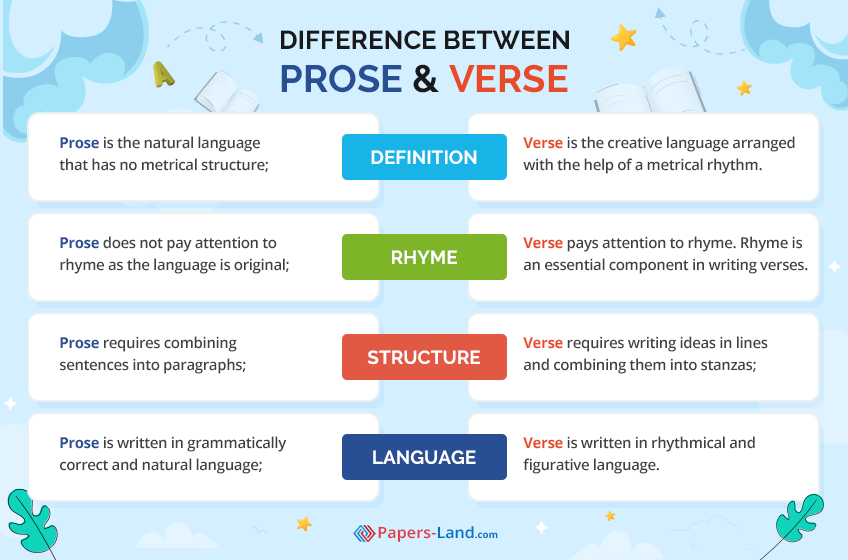 Additional Information
It should be noticed that prose is more popular than verse as it is used in more areas. Having a diverse range of purposes and uses, prose remains the main means of communication. The verse is closely related to art because it is used in writing poems, songs, etc. Speaking about prose and verse, one should also mention their similarities. As such, both the prose and verse forward important information to the audience. Both of them are open to interpretation. Of course, by practicing a lot, you will find many other similarities and differences between verse and prose. Having sufficient experience, you will see that distinguishing a prosaic work from a verse is quite simple. Sometimes, it is enough to pay attention to the difference in their forms.
Get Expert Writing Assistance
Writing a literary analysis is a common assignment in many educational institutions. Nevertheless, it is a real challenge for the vast majority of learners. If you cannot recognize the differences between prose vs verse or you simply don't have time on writing your paper, you can always rely on professional writers working at Papers-Land.com. All the specialists working here are seasoned and qualified. Having vast experience in academic writing, they are capable of tackling the most sophisticated academic projects. No matter if you want us to help you with writing a literary analysis of the prosaic paper or the poetry one, we will provide you with the paper that will bring you the best grade. If you feel that writing prose vs verse analysis paper is not something you can do well, you should forget about your doubts and hesitations. We assure you that cooperation with our trustworthy writing platform will become one of the most rewarding decisions in your academic career because your paper ordered here will be absolutely original and flawless. Taking care of the needs of our customers, we provide them with nothing but the best. So, if you got stuck on writing your literary analysis, don't think twice and give us a call!