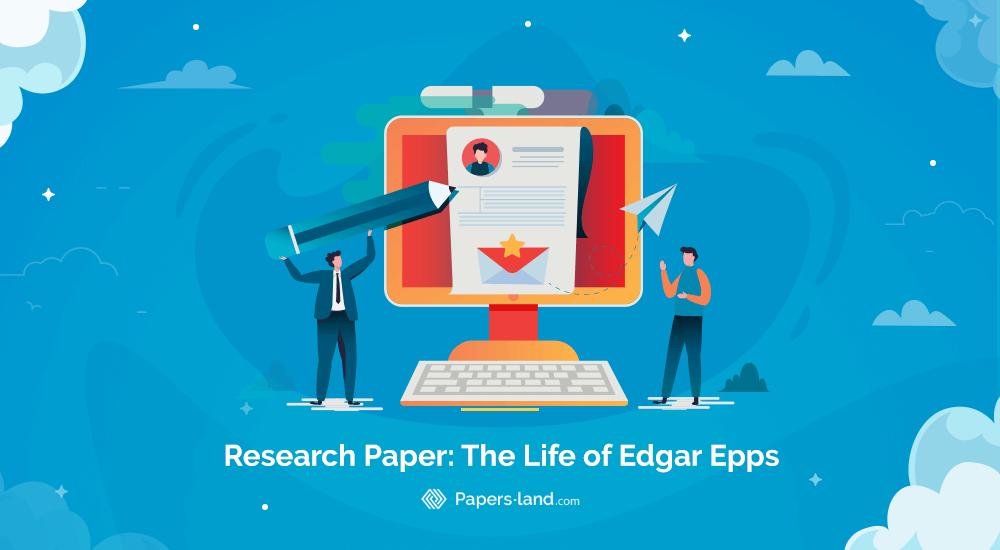 Research Paper Example: The Life of Edgar Epps
Introduction
Edgar Epps is one of the few notable and nationally recognized African American scholars in the United States. His career was based on and was remarkable for the scolar's profound understanding of the importance of education in the Black liberation struggle. It was also based on his early interest in the issues related to social stratification and social mobility. A sociologist at the University of Chicago who also wrote about education, Epps mentored many African American scholars in both subject areas. In this entry his life and achievements are analyzed.

Calculate the price
Biographical Sketch
Edgar Epps was the second of seven children (five of them grew up to be educators), born to Clifford and Odelle Epps in 1929. Epps spent his early years in Arkansas; he was born in Little Rock, reared and got his education in Woodson before he returned to Little Rock to graduate from the high school after his parents insisted on his attending a more academically challenging institution. On graduation from Dunbar High School in Little, professor Edgar Epps studied his degree at Talladega College, graduated with a Master's degree from Atlanta University and finally accomplished his Ph.D. in sociology from Washington State University.
Edgar Epps is considered as one of the few notable, acknowledgeable, nationally recognized African American scholars in the United States. In his career he favored the idea of education in the Black liberation struggle, considering it to be of a great importance. Thus, his early interest in issues related to social stratification and social mobility were quite indisputable. Moreover, a famous sociologist at the well known University of Chicago, he also was involved in writing about education.
His legacy is comprised of the books among which are Black Students in White Schools; Black Consciousness; College in black and White; Cultural Pluralism; Current Perspective; Reconstructing the Schools; Law and Contemporary Problems; and Journal of Education.
Edgar G. Epps has an outstanding position at the university of Wisconsin-Milwaukee as a senior professor associated with the department of educational policy and community studies. He is also a professor at the University of Chicago who is lecturing on an urban Educational Emeritus. Considering his prior experience and activities, he held different ranks at the University of Michigan, Tuskegee University, and Florida University, not forgetting about Harvard University and Carleton College, where he was conducting classes as a visiting professor.
During the entire course of his career, Professor Edgar Epps has successfully managed to attain several awards. Recently, he was awarded with Dubois, Johnson, and Frazier award of the American Sociological Association. He also managed to grab the Harold E. Delaney Exemplary Leadership award of the American Association of Higher Education's Black Caucus in 1997. Finally, he received an honor at a symposium during his early years by his former students in 1998, in celebration of the retirement he was in.
Analysis
Edgar G. Epps's writings are based on the principles of African American education. In his works Mr. Edgar transformed the lives of the African American by a greater margin. He has influenced the African American in almost every subject (Epps, 1972).
Since his first book was published, he has managed to alter and inflict new ideas based on the importance of education and has cultivated this idea in the minds of the African American population.
He can be regarded as the core founder of wisdom and awareness in the African American population. He is attributed as the key element of eradicating the medieval mind of the African American population of cultural aspects and beliefs. He eroded the stupid ideas of the population, influencing the level of awareness of the importance of education and highlighting its benefits through the various examples, illustrated in all his works. His ideas revolved around the nature, condition, and the position of an illiterate society, perceived by cultural ethnics and beliefs of being undermined by race and gender.
Professor Edgar Epps has been a loyal servant to the United States Department of Education, working as a consultant. He was also able to offer his services to both the Southern Educational Foundation and the Chicago Board of Education as a consultant. During the entire period before his retirement, he acted as an expert witness in the Knight Alabama higher education desegregation in 1994.
Summary
Despite all his personal achievements, Edgar Epps gave primary and vital attention to his role of a teacher. He was considered as a demanding, patient, inspiring and resourceful teacher. Throughout his teaching period, he established a remarkable place for his work as a mentor. Not only was his door open to welcome students, but also he sought out students of color, in a bid to encourage them toward the lives of scholarship and to show them how to live such lives. He took a holistic approach to examine the persistent challenges of deteriorating urban schools, chronic social problems, and the disgusting educational outcomes that were associated with the African American students. As society continues to confront and struggle with many of the same problems concerning Black children's access and equity in education that were common, most of the solutions were attributed from the ideas, advise and thoughts of professor Edgar Epps.
Based on his school "The Chicago school for contemporary scholarship about race and educational achievement", he attributed the essence of pressing need at a time to understand two powerful forces shaping the social landscape of America: urbanization and immigration (Epps, 1972).
Professor Edgar Epps emphasized that the social and cultural assimilation, ultimately practiced by the Chicago school's, hampered the perspective's ability to provide balanced appraisals of African American culture, institution, and people. His career was founded upon and propelled by a profound understanding of the importance of education in the Black liberation struggle. He strongly argued that race was not a factor that is to influence one's academic achievements. In his works he says:
It doesn't matter what color you are, if you wanna learn, you will. If you don't, you won't ().
He also insisted:
what matters is what a person can do ().
Despite the progress African American children were in the process of facing the numerous barriers to success in their academic achievements, which was explained mainly by the historical, cultural, and social factors that have greatly influenced the pervasive attitudes of racism, permeating the social structure of America and the system of educational in general. Epps pointed out that the quality of education which was available to children was related to the power, prestige, and wealth of their families. Moreover, there was an idea that schools, being institutional agents of society, were aimed at the maintenance of the established patterns of domination and subordination amid the groups of competitors. Moreover, they perpetuated racial, ethnic, social class and gender inequality in access to educational, and thus, occupational opportunity, the "failing schools" that African American children attended, were hugely successful in claiming their unwritten, but easily understood principles. They had the mandate to keep the door of educational opportunity closed to the majority of African American children.
Check out our professional research paper writing service. Here you can get quality help with your paper!
Society is also extremely influential in the sphere of the development of all people. This is where traits are nurtured and talents are brew. Culture identifies person's origin. It brings people closer to their home. Those who share common beliefs always have stronger ties than those who have varied religious and cultural knowledge. Socialization hence becomes core to every person's development.
One example of the continuing impact of the legacy of racial oppression is the gradual dismantling of school desegregation programs in urban school districts. Resistance to desegregation expressed as White flight, followed by a series of court decisions declaring many urban districts to be "unitary," has resulted in desegregation and further fought for renewal in his call for societies to focus on "neighborhood schools." Therefore, African American (and Latino) children are segregated in urban schools today nearly to the same way they were forty years ago . A conservative U. S. Supreme Court, after dismantling the desegregation programs of the past thirty years, is now considering affirmative action in higher education. A repudiation of the University of Michigan's affirmative action program would have a devastating impact on African American students' access to highly selective colleges and universities.
Although as Du Bois pointed out (Journal of Negro Education, July 1935), there is no magic in either racially mixed or racially segregated schools, there is considerable evidence that America has not provided high quality education in racially segregated public schools. Research has consistently found that racially segregated public schools are likely to have to contend with the educational impacts of concentrated poverty. A large proportion of schools identified by state testing programs as low performing are racially segregated schools with concentrated levels of poverty. Schools with the highest proportions of poor children are particularly disadvantaged.
At the other extreme, recent research has verified the existence of a racial achievement gap in racially mixed schools, in affluent suburban school districts. The frustrating question in this case is why the children of highly educated and relatively affluent African Americans lag well behind the children of comparable Whites. A part of the answer appears to be the overrepresentation of most students who are of African American origin in the low-level classes and underrepresented in high-level classes (Honors, Advanced Placement). Thus, the continued use of practices such as ability to group and track, in concert with conscious or unconscious racial stereotyping that affects grading practices, limits the academic opportunities of African American students even in "successful" school districts. His latest book is captivating. It is Black American Students in an Affluent Suburb: A Study of Academic Disengagement (2003) where the issues outlined above are extensively represented.
Conclusion
Discrepancies in the application of school discipline policies in the past have driven much concern about the current wave of zero tolerance approaches to school discipline and order. Many of the African American considered education and success as the one that belonged exclusively to the white. This was not until when professor Edgar Epps washed those thoughts away and struggled so fiercely and persistently editing books that created awareness of eradicating racism and chauvinism among the whites of Chicago.
Like this sample?
Get a paper like this only for $12.99/page