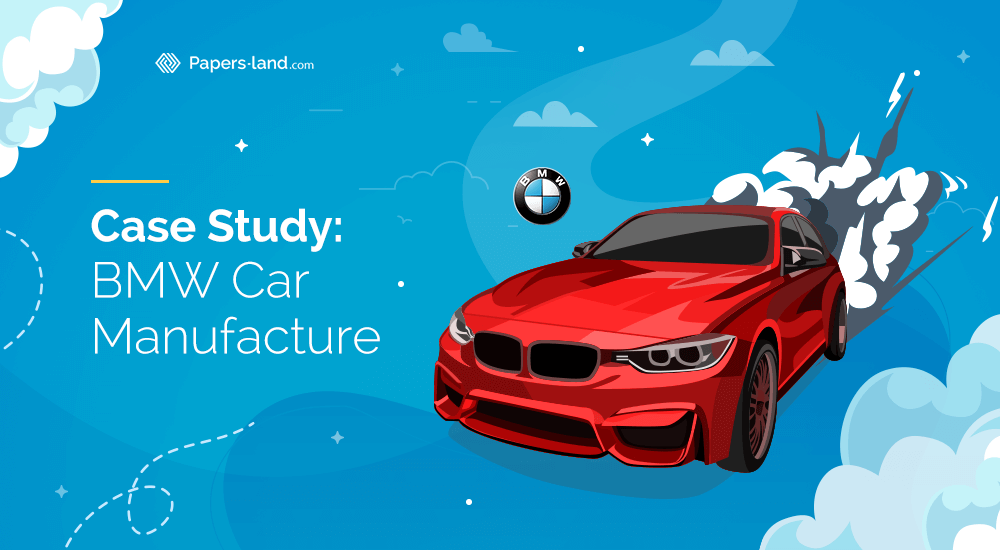 Calculate the price
Overview of BMW Car Manufacture
BMW, officially known as Bayerische Motoren Werke, is a German automobile manufacturing company that has exceeded the Global 100 Most Sustainable Corporations Index, opened by Corporate Knights in Davos. A business entity has established a spotless reputation in its job trying to diminish its environmental footprint. A German company has a cogent brand image, which is well known globally emphasizing the values of technology, performance, quality, and exclusiveness. That is why BMW faces continuous difficulty in maintaining the image at a premium level. In order not to lower the bar of the enterprise, the most appropriate solution for it is a launch of customer relationship management (CRM), which will have a significant positive effect on the company's sales and marketing.
Challenges of the Company in Sales and Marketing
The first problem for the BMW Group that influences the organization's sales turnover is an economy decline. It is an unavoidable and unfavorable factor, which occurs sometimes. 2015 was the most successful sales year for the Munich-based carmaker; however, it faced considerable pressure in China. The decelerated economy hit sales of luxury goods. Ian Robertson, BMW's sales chief, noted that "We will need to be prepared for market volatility in China in the short term. It's too early to say what the effect of the current situation on the Chinese stock market will be" (as cited in Behrmann, 2016). The second issue for the enterprise is the implementation of an advertising campaign under a logo called "Designed for Driving Pleasure" (Behrmann, 2016). BMW marketers did not take into consideration that this new campaign would be acceptable to any car company competitors, and it would not differentiate enterprise's brand from others. It merely says nothing about the brand name. What is more, that logo is a definite insult at Toyota, Hyundai, Mercedes-Benz, Audi and other competitors. BMW marketers should create a global ad theme for the brand without entirely ignoring markets around the rest of the world because such behavior will undermine company's reputation. The third challenge for the organization that it encouraged marketing initiatives with corporate resources, but it did not have a corporate program to take advantage of social networking. To promote and support new model realization on Facebook, it needed quickly expand its dynamic solution. Furthermore, there are also challenges in the company, such as pressure on prices generated by magnifying competition at the premium car market and difficulty to sell top-line models at the flat and saturated European markets. The enterprise also has to be oriented to a medium class of automobiles to maintain sales figures.
The Purpose of Using the CRM Tool
BMW manufacturer knew that sales and marketing effectiveness would make or break it at a global market. That is why the company appealed to customer relationship management (CRM) solutions to provide it with a competitive advantage. The term is used to describe software applications that automate the marketing, selling and service functions of businesses. The company needed CRM solutions that people would desire to use and that offer an integrated view of complex customer information and interactions, combining efficiently with legacy systems. CRM fortified communication with dealers and made it for potential consumers to get all buyer information as easily as possible. Customers can communicate with BMW through a multitude of channels, namely, social media, phone, e-mail, dealer, mail, and events.
The Period of Implementation of the CRM Tool
A luxury automaker launched CRM at the end of 2007 at eight European markets. In the USA, the enterprise had already advanced a business model and even a system platform of its own before headquarters started to take over the central activity. Nevertheless, the company provided the U.S. market with CRM in 2008 (Behrmann, 2016). In the foreseeable future, BMW's strategy is to incorporate all markets on one common group platform.
Check out our professional case study writing service. Here you can get quality help with your paper!
Company's Feedback
Company's feedback is positive because shreds of evidence are genuine. CRM multiplies sales and enterprise efficiency, ensures customer satisfaction, and enables customers to have access to sales information, as well as allows marketing managers to create a target group of clients for specific marketing projects. Moreover, it supports BMW's marketing activities conducted by regular postal mail, electronic mail, and SMS, gives an opportunity to share information across dealerships, allocates better sales resources, and allows sales status reporting and benchmarking. By the way, in BMW, CRM identifies and focuses on specific profitable customers, since it costs less to sell to an existing customer than to a new client. A 5% growth in customer retention can enlarge profitability by 85%. In fact, CRM boosted BMW's revenues by 15-20%, customer satisfaction by 25%, consumer retention by 15%, and sales force efficiency by 50% (Behrmann, 2016). Besides, it is very relevant that CRM solutions always guarantee information awareness through the Internet, because its lack leads to dissatisfied customers and possibly the loss of them.
Conclusion
Despite technology, quality, performance, and exclusiveness of BMW's products, the company can face hindrances in sales and marketing activities, such as economic deceleration, incongruous advertising campaign, and increasing competition in the saturated car market. The automobile giant should meet premium level expectations to retain customer's attention and not to weaken a strong brand image, as well as to mitigate risks of losing customers due to problems. The enterprise has achieved this with the implementation of customer relationship management techniques. The selected tool has resulted in advantages of a high level of communication, management support, customer-oriented focus, and a technology-driven strategy. It permanently gives an opportunity for customers to be informed via an online platform. Apart from this, it enhances BMW's revenues, customer satisfaction, sales force efficiency and customer retention.
Like this sample?
Get a paper like this only for $12.99/page
What our customers say

Floyd
You helped me a lot! I received an excellent research paper from your writer!

Jan
My paper is perfect! I got A+ with your help! Thank you!

Steven, LA
Thank you for an appealing piece of writing. Additionally, I am grateful for a good abstract. It was stunning!

Sophie, FL
Great job! I'm satisfied that all my requirements were taken into account! As far as I've got a high mark for my home assignment, I can boldly suggest papers-land.com.

Jack, PA
The quality of my research paper was just perfect and the company met a deadline. So if you are still in doubt whether to order a paper at this writing service or not, I can recommend you take a right decision and to make an order!

Amanda, WA
I'm grateful to this service because my essay was considered by my teacher as the best one among others. I'll definitely apply to this company again.

Ryan, CA
The biggest challenge I always face is to write briefly. So that I didn't find a better solution than just to make an order at papers-land.com. That was a right decision because the company completed the task splendidly!