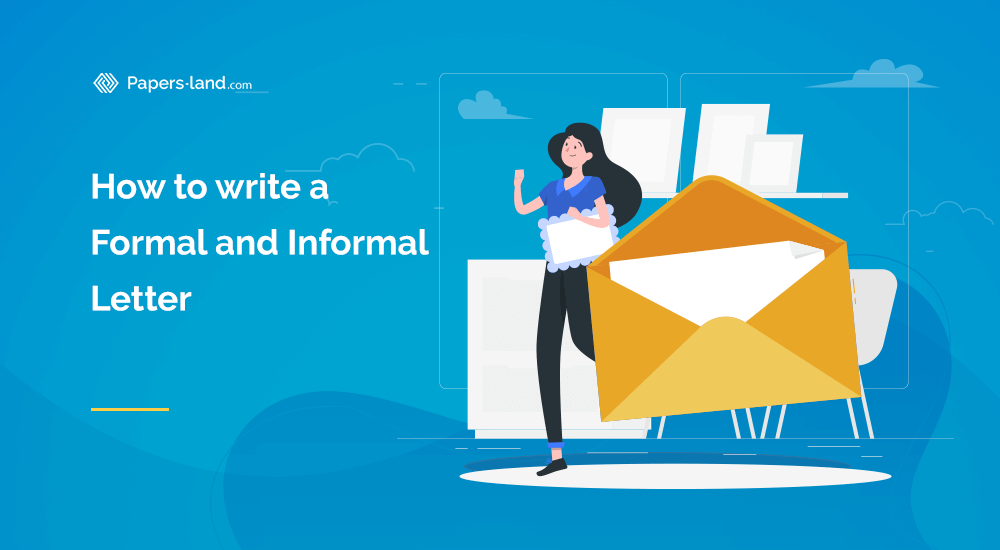 Difference between Formal and Informal Letter Writing
People need to write letters for various purposes: to request for some information, to inform the recipient about an upcoming event, to recommend something, to invite, to decline a request, to express gratitude, etc. When writing this document, you should keep in mind that it says a lot about the sender. Thus, if you lack appropriate letter writing skills, we advise you to check our guide that will help you understand how to write a formal letter and informal letter and what makes them different. We guarantee that by applying our secrets in practice, you will create a great letter.
A letter is one of the forms of written communication, which nowadays is widely substituted by e-mails and SMS. Nevertheless, obtaining good letter writing skills is important for everyone because there are still many areas that require letter writing. For instance, when applying to a college, you will be asked to write an admission letter and when applying for the desired job position, you will need to write a cover letter. Being pretty short in length, letters usually include very important information that should be organized in a clear form. Basically, there are two main types of letters: formal and informal. Formal letters are widely used in official communication whereas informal letters are usually sent for personal purposes. A formal letter is often clear and concise. No wonder, in a business environment, people do not have much time to read long letters. On the contrary, informal letters are usually sent to friends, thus they are more detailed and casual. Having different purposes, formal and informal letters also have their own characteristic features that should be considered by everyone, who wants to succeed in letter writing. Below, you will find the definition of formal and informal letters: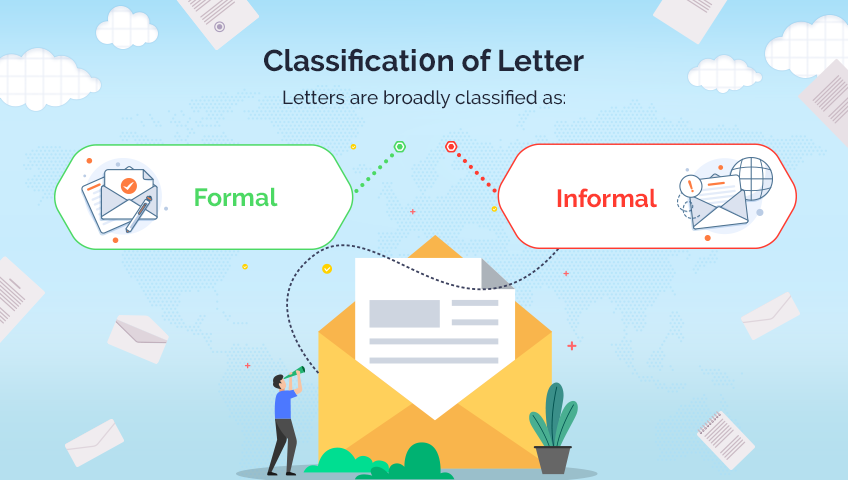 Formal Letter Definition
The common formal letter definition says that it is a document that is written in a professional language in accordance with a prescribed format. It can be written in the form of a recommendation letter, a cover letter, a business letter, and so on. If you want to know how to write formal letter, you need to consider the following aspects:
You should follow a specified format;
You should avoid using unnecessary or awkward words;
Your letter should be maximally straight-to-the-point;
Your letter should be objective and relevant;
Your letter should sound polite, even if you are writing a complaint;
Your letter should be free from any typos and other mistakes.
Finally, you should know that there are three main types of formal letters: letters discussing civic problems, business letters, and job application letters.
Informal Letter Definition
An informal letter is written to a close person or a person you know very well. Such a letter can be written to inform, guide, ask, invite, etc. Pay attention that since it is a personal letter, the tone of your message is informal. In comparison with a formal letter, there is no clear formal that should be followed. When writing an informal letter, you are allowed to make the tone of your document friendly and emotional. Besides, in this letter, it is acceptable to use slang, jargon, abbreviations, etc. When writing an informal letter, you need to do the following:
Write your full name;
Keep your language simple;
Divide your letter into several paragraphs to make it easy-to-comprehend;
Pay attention to your wording. Even if your letter is personal, it should be free from mistakes as they will show your carelessness.

Calculate the price
How to Write a Great Letter?
No matter if you are writing a formal letter or an informal one, it should include several integral parts mentioned below:
The full name of the recipient;
The greeting. If you do not know the name of your recipient, you may write "To whom it may concern.,"
The subject of the letter;
Description;
A call to action;
Signature.
How to Write a Formal Letter and Informal Letter? Find Out the Difference!
Below, you will find a table that will familiarize you with the characteristic features of both letters. If you want to understand how to write a letter formal and informal, feel free to study the table.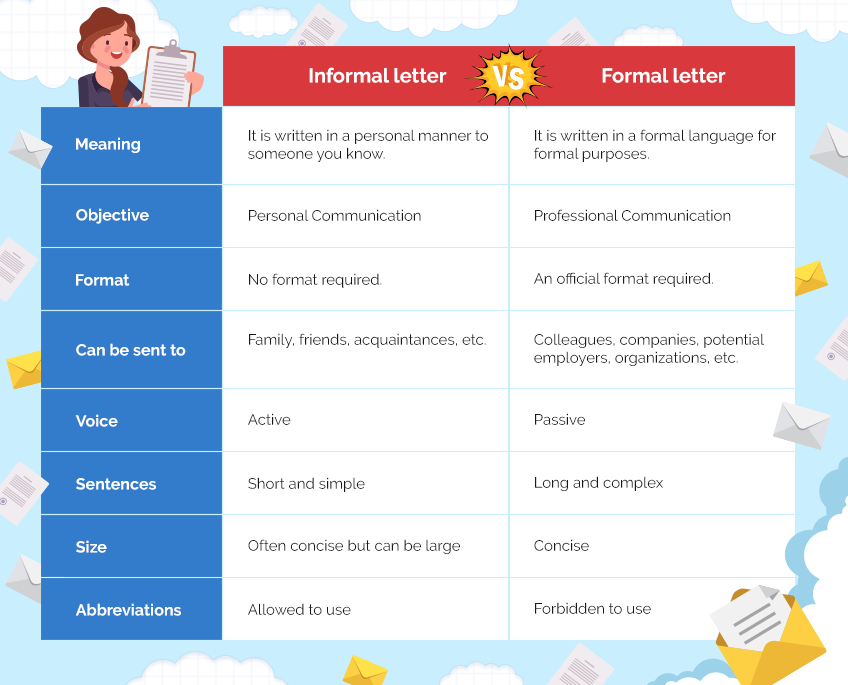 Additional Tips for Letter Writing
Now, when you know what makes a formal and informal letter different, make sure to learn a few suggestions that will help understand how to write a good letter regardless of its type.
Make Your Letter Clear
When you are sad or too emotional, it is easy to write a confusing letter. However, you should understand that in order to bring you the expected outcome, your letter should be maximally clear. As such, before writing your letter, make sure to clearly recognize its purpose. Knowing your goal, you will be able to build your arguments in a good way. To find out what to write in your document, you should try answering the following questions:
Why you are writing this letter?
What is the main idea of your letter?
What result do you expect to get?
Before you start writing your letter, make sure to brainstorm your ideas and shape them into strong arguments. Pay attention that the more time you spend on the preparation stage, the less time you will spend on writing and revising your letter.
Make Your Letter Short
Keep in mind that the thing that makes a letter different from other documents is its length. Such a paper rarely exceeds one page. As such, you should use the most appropriate words to convey your messages in the best way. To make your letter concise, do not repeat yourself, and try to get rid of all the confusing or awkward statements.
Make Your Letter Alive
No matter if you are writing a formal or an informal letter, you should speak directly to your reader. Using the same words and word combinations you use in your real-life speech is a good idea. To keep the reader's interest in your message, you need to include a good hook. If you find it difficult to understand how it should look like, we recommend you to search for the well-written letter examples that will help you improve your letter writing skills.
Make Your Letter Right
Of course, your letter will be evaluated primarily for its content. However, we highly recommend you to edit your document and fix all the mistakes. The obvious mistakes will confuse your reader and demonstrate your carelessness, which is not good if you are going to make a good impression on your reader.
All in all, we assure you that writing a letter is not a very difficult task to do. Of course, there are several important aspects to consider. In particular, to reach your goal, you should pay close attention to the content, structure, and formatting of your letter. However, at the same time, by applying your time and creativity, you will be able to create a great piece that will help you reach your goals.
What our customers say

Floyd
You helped me a lot! I received an excellent research paper from your writer!

Jan
My paper is perfect! I got A+ with your help! Thank you!

Steven, LA
Thank you for an appealing piece of writing. Additionally, I am grateful for a good abstract. It was stunning!

Sophie, FL
Great job! I'm satisfied that all my requirements were taken into account! As far as I've got a high mark for my home assignment, I can boldly suggest papers-land.com.

Jack, PA
The quality of my research paper was just perfect and the company met a deadline. So if you are still in doubt whether to order a paper at this writing service or not, I can recommend you take a right decision and to make an order!

Amanda, WA
I'm grateful to this service because my essay was considered by my teacher as the best one among others. I'll definitely apply to this company again.

Ryan, CA
The biggest challenge I always face is to write briefly. So that I didn't find a better solution than just to make an order at papers-land.com. That was a right decision because the company completed the task splendidly!
If you find it challenging to understand how to write a formal letter and informal letter or you have no time for that, you should turn to our writing service and ask for assistance. Our company has been providing top-notch quality letter writing help to customers worldwide for many years. No matter if you want us to write a recommendation letter for your subordinate, a cover letter applying for a job, or a personal letter to your friend, we will assign a specialist, who will do it successfully. Buying your letter at our writing platform, you should not worry about its originality because we use the most reliable plagiarism checkers. Having vast experience in letter writing, each of the experts working in our team knows how to write formal letters, as well as informal ones. All in all, our cooperation will become your amazing experience. So, give us a call now!