Top-Notch Tips for Writing Resume from Professionals
Introduction to Writing a Resume
Sooner or later each person will have to write a resume in order to get the desired position. If you are ready not to apply for a job or if you would like to change a career, you definitely need to know how to write a resume in 2021 in this fast-changing world. If you have your old resume lost somewhere in the back of your drawer, keep in mind that you will have to adjust it to the modern requirements and to the actual position. If it is the very first job you are planning to apply for, you need to know some of the basics of what to include on your resume. In any case, a properly written resume will be a pass to better career prospects. Moreover, a well-structured resume will pave you away towards the interview process. So, check out the article below and find out how to write a resume in 2021.
Why Is Resume Writing Format So Important?
Any person who has gone through at least one interview in his/ her life will definitely tell you about a properly organized resume plays an important role in the job application process. A resume is a kind of a link between the job seeker (you) and the hiring manager, who actually has some options for you to offer. As such, when a hiring manager comes across your resume, he/ she will get a clear picture of you as a job candidate. Specifically, your resume should ideally provide information about your educational background, former job experience, accomplishments gained by you, and any other skills or talents that you have.
At first sight, all these facts about resume writing are simple and obvious but, on the other hand, a resume may sometimes be rather deceptive. However, it does not mean that people use a resume as a kind of document where they can lie about their professional accomplishments whatsoever. No! A resume can be deceptive in terms of seeming less difficult to write than it really is. Overall, it is easier to provide a bad resume than a good one. However, if you want to get the position, you should not write a bad resume. You definitely need to find professional tips for writing a better resume as a great resume is the one that stands out of the crowd. So, if you want to write exactly the same resume – the one that will appeal to your readers – you need to follow the professional guidelines provided below.
Resume Formatting Tips: What Type of Format to Choose
Many years ago, there was one universally acceptable resume writing format – a chronological one. Check out some of its features below.
Chronological Format for Resume Writing
A chronological format of writing a resume is also known as reverse-chronological since it starts with the most recent experience of what you have been doing and ends with the earliest one. According to the resume experts working at Papers-Land.com, the main aim of a resume composed in reverse-chronological order is to demonstrate to the hiring managers what relevant skills you have gained in the recent workplace. Such a resume will definitely show them your career path: whether you had some breaks or work gaps or not. Besides, you will be able to illustrate your path of promotions and career development.
There are many benefits of following this format since there is no wonder why so many people adhered to this style at the heyday of resume writing. Besides, it was a part of a global resume writing standard.
Resume experts wanted to introduce some changes when they found out that all people regardless of their specialty, major, professional interest or experience used the same resume format. Then someone contemplated that jobs are not the same and that actually makes a difference whether one is composing a resume for the position of a babysitter, plumber, engineer or teacher. As a result, formats have become more specific depending on professional and career needs. To be more precise, resumes had to be more functional. At that point, a functional resume has appeared.
Functional Format for Resume Writing
Instead of solely listing what you have done in chronological order, try focusing on the jobs that add up to the relevant skills and experience. This is the main essence of a functional format. In other words, you list not simply all experience you have gained throughout your life but only the expertise that can prove to be useful or come in handy in the sought for position. Such a resume format eases the task for your hiring manager as he/ she no longer has to read tons of information about your experience, especially if it is not related to the job you are now applying for. Metaphorically speaking, a chronological resume looks like a shopping basket with all experience gained throughout your life whereas a functional resume is more personal and it demonstrates more clearly who you are. If you cannot decide which one to use, try combining both. This is actually how the combination format for resume writing appeared.
Combination Format for Resume Writing
If you are eager to know how to write an impressive resume, keep in mind that a combination format of resume writing is something that you may strive for. To format your resume this way, you need to take the skills and expertise relevant to your sought position and organize them chronologically.
Now having overviewed three different types of resume formatting, you may question yourself which of them is the best one now? So, read on and check out tips how to write a resume in 2021 following a perfect formatting style.
How to Select the Best Resume Formatting Style for You in 2021?
The very first thing you need is to decide which of the abovementioned formats will suit your needs. Apart from meeting some job application criteria, the format should also be effective in depicting who you are as a person and as a specialist. It is an undeniable fact that fewer people prefer chronological resume formats in 2021, but still, you are the only one to decide which format will be effective for your purposes.
Chronological resumes are perfect for those candidates who have a consistent career path and for those who have been working in the same field for many years. Besides, if you are not changing careers drastically or if you are shifting a career to the adjacent field, you may also pick a chronological review format. This resume format will also be recommended for those who have no or just a few gaps in the employment history. One of the main reasons why employers or hiring managers like this type of resumes is because they are easy to navigate through and are easy to read. It is perfectly clear what one has been doing starting from the dawn of the career path. So, if you have been staying in the same industry or field for many years, the best option for you would be to write a resume in chronological order. Your hiring managers will better keep track of your progress. When you are organizing your resume in a chronological format, make sure you include the following parts:
a summary statement;
qualifications and former experience you have;
educational background.
Functional resumes are the best choice for those candidates who are changing their careers and are trying something different from what they got used to. Besides, it would also be recommended to people who have gaps in their professional history. If you are willing to get accepted for a specific position that is demanding some peculiar skills from the potential job candidates, you may also be interested in composing this type of resume. You will thus be able to make your resume appealing to a particular target audience. The predominant emphasis is placed on the very skills that a job candidate has instead of the length of service or consistent career path. So, if you have decided to write your resume in a functional format, adhere to the following structure:
summary statement;
your accomplishments during your career path;
your qualifications and former experience you have;
educational background.
Combination resumes best-fit people whose main aim is to change a career and shift away from one job industry to the other one. Besides, this resume would serve well if you want to highlight your best-developed skills and talents, especially if they are relevant to your sought position. If you have made your choice in favor of a combination resume, follow such structure:
summary statement;
your career accomplishments;
your qualifications and experienced you have gained over the previous positions;
acquired education.
Major Sections and Details of Resume Writing
If you wonder what a perfectly composed resume looks like, check out the following resume writing tips to help you. As a rule, any resume regardless of the formatting type is broken into separate sections to ensure readability and clarity of provided information.
Common sections to be included in a resume:
cover page: heading and your full name;
additional contact information;
the main objective why you want the position;
educational background;
work experience gained throughout the career path;
skills and talents that you have.
Other sections worth including in your resume:
your interests and hobbies;
achievements;
volunteering experience;
awards and prizes;
certificates;
publications.
As you see, there can be many different sections and you can add them depending on your needs and resume requirements. Let your potential employers know in-depth information about yourself.
What Your Resume Should Look Like in 2021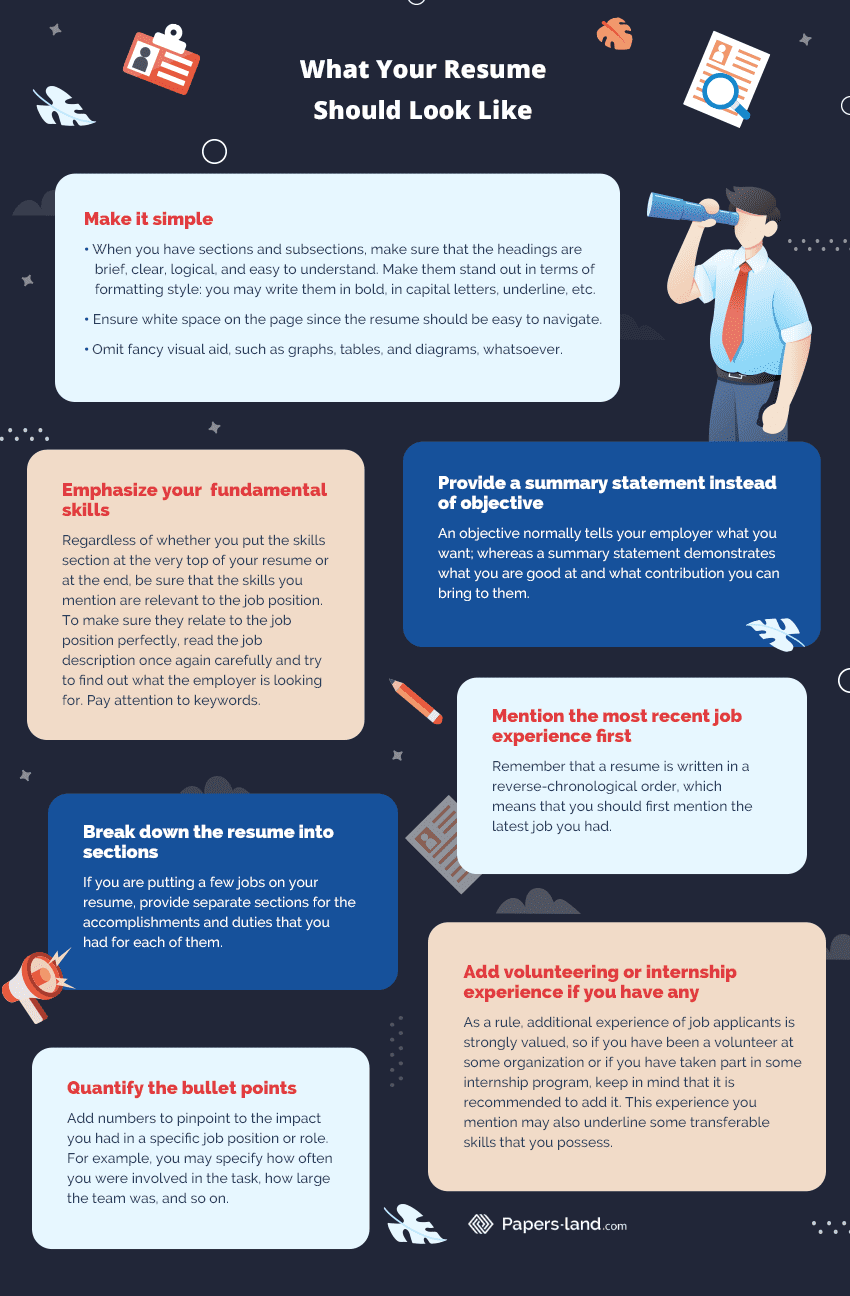 Make it simple

When you have sections and subsections, make sure that the headings are brief, clear, logical, and easy to understand. Make them stand out in terms of formatting style: you may write them in bold, in capital letters, underline, etc.
Ensure white space on the page since the resume should be easy to navigate.
Omit fancy visual aid, such as graphs, tables, and diagrams, whatsoever.

Provide a summary statement instead of objective
An objective normally tells your employer what you want; whereas a summary statement demonstrates what you are good at and what contribution you can bring to them.
Emphasize your fundamental skills
Regardless of whether you put the skills section at the very top of your resume or at the end, be sure that the skills you mention are relevant to the job position. To make sure they relate to the job position perfectly, read the job description once again carefully and try to find out what the employer is looking for. Pay attention to keywords.
Mention the most recent job experience first
Remember that a resume is written in a reverse-chronological order, which means that you should first mention the latest job you had.
Break down the resume into sections
If you are putting a few jobs on your resume, provide separate sections for the accomplishments and duties that you had for each of them.
Add volunteering or internship experience if you have any
As a rule, additional experience of job applicants is strongly valued, so if you have been a volunteer at some organization or if you have taken part in some internship program, keep in mind that it is recommended to add it. This experience you mention may also underline some transferable skills that you possess.
Quantify the bullet points
Add numbers to pinpoint to the impact you had in a specific job position or role. For example, you may specify how often you were involved in the task, how large the team was, and so on.
Need Professional Assistance with Your Resume?
If you feel that you cannot cope with resume writing on your own, do not hesitate and ask Papers-Land.com expert writers, "I need resume help." Be sure that you will get sufficient help from qualified and experienced resume writers. The order you get from us will exceed your expectations and your resume will definitely stand out from the crowd. As a result, you will land the job of your dreams.