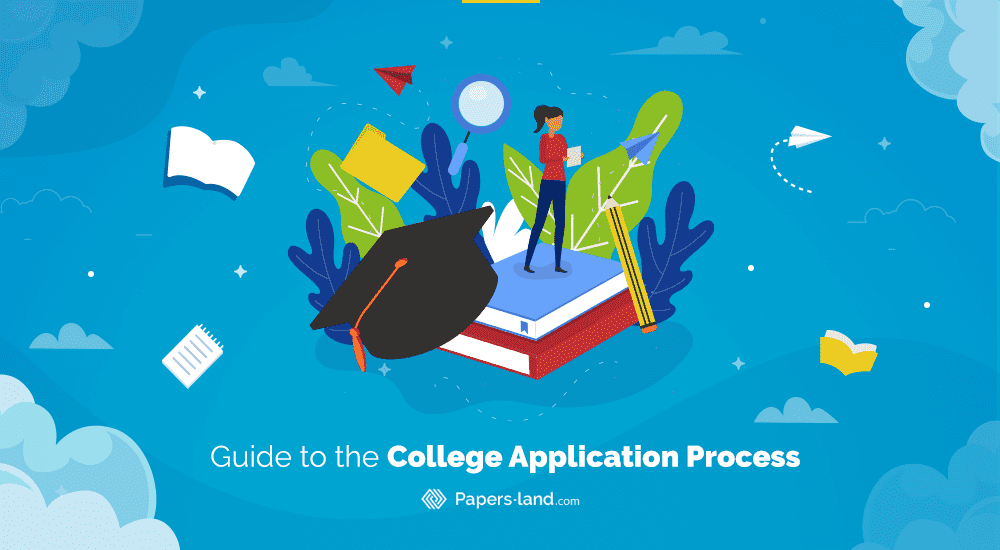 5 Mistakes not to Make Throughout College Application Process
College application serves multiple purposes. Besides its main intent to check your readiness for studying at college, it also aims to test your various skills of planning, paying attention to, and following orders. This whole challenging process can be seen as a life test on its own. That's why we've compiled a list of the most common mistakes you should avoid.
Missing Directions

One of the most important things to do is to read all instructions thoroughly and follow them closely. On completing your application, ask a friend or teacher to look through it and double-check yourself.

Statistics show that one of the most common mistakes is the lack of signatures. They are often placed on the last page or backside of the application form and thus can be easily overlooked. Finally, always keep the deadline in mind because there is no way back once you miss it.

Getting Too Many College Application Tips from Others

Applying for college, you obviously require help and support from people around you. However, sometimes this help might get in a way and leave a rather negative mark on your application. The riskiest field is the application essay. Mind that admission officers are professionals who can easily notice when an essay was written with too much help from an adult.

Using Unprofessional Email Address
This advice might come as a surprise, but your email address is very important. We all are guilty of owning a ridiculous email address at some point in our lives. You can keep it for friends, but use only professional ones while contacting anyone from official institutions. Another thing about emails is to check them regularly because you can receive an urgent email at any moment.
Sluggish Essay
Application essay often plays a more important role than academic achievements or extra curriculum activities. That's why you should dedicate a lot of time and work intensely on it. The best kind of essay is the one that gives an insight into your personality and shows your values. Write earnestly and don't forget to use advanced vocabulary.
Not Checking Your Application
Applying for college online, you're supposed to receive confirmation after the college gets your application. It can be in any form (email or call), but if you haven't got it, the application hasn't reached its destination.
College application is a complex process that many of us have to endure at least once in life. Provided you plan everything, follow instructions, and don't make the mistakes mentioned above, this challenge won't be hard to achieve.
Each college has a different application process. However, all the educational institutions want to accept passionate, skilled, and goal-oriented people ready to broaden the horizons and achieve their goals. Below, you will find a college application process checklist that will help you understand what documents should be prepared for entering, as well as what information you should know to enter the college of your dreams.
College Application Process: Documents Submitted by the Applicant
An application. Each college has its own application form. Very often, they require applying a common application in which the individual should mention all his or her previous experiences and achievements, as well as future career goals. The application requirements can be found on the website of the college you want to apply to. Most probably, you will be asked to present the following:

Personal information of the applicant. You will need to indicate your name, phone number, e-mail address, the name of your high school, citizenship information, and other details;
Extracurricular. You need to inform the application committee members of what you have done outside the class. For instance, if you had a part-time job that helped you develop as an individual, make sure to tell about it even it was only taking care of siblings;
Summer activities. You should explain what internships or jobs you had in summer;
Essays. You need to submit the essays written previously;
Honors. Basically, it is a list of honors if you have any. You should also tell why the particular honor is important and how many students received it;
Application fee. When you pay for your application, you need to submit an official document proving it. In case it costs too much, you may talk to your guidance counselor and learn more about the financial aid provided by the college.

Standardized test scores. Apart from listing your SAT and ACT scores, you will also need to provide official score reports. These reports should be sent directly from the College Board to the college you apply to. Besides, many colleges ask applicants to submit the results of SAT or AP tests.
Documents Submitted by the Guidance Counselor
Official high school transcript that lists all the classes taken by the applicant during his or her study along with the grades or credits received. This transcript is usually sent directly from the high school to college by the guidance counselor within the deadline set by the college;
Mid-Year and Final-Year grade reports. In order to check your performance, the application board members will ask for these reports. They do it in order to ensure you move in accordance with the chosen trajectory and do your best to succeed in your study. You should know that colleges have the right to change their decision. In means that even if you were accepted, this decision can be changed after reviewing the final-year grade report. This does not mean that getting one B in your senior year will bring you into trouble, but several Cs and Ds will cause great concern;
Counselor recommendation or a secondary school report. This report helps your guidance counselor to contextualize your academic experience. In this report, the counselor will provide information about the advanced placement courses available in your school, as well as your academic strengths related to your classes. In addition, the counselor has an opportunity to provide the admission committee members with information about the special circumstances and challenges you have faced during your study. Keep in mind that all the colleges want to get a whole picture of you as a student and an individual. By providing them with this information, you will be able to succeed in your application process for college.
Documents Submitted by Your Teachers
Teachers are always asked to provide recommendations for their students in order to allow the admission officers to get some insight into what makes a specific candidacy a good fit for their educational environment.
Want to Get College Application Process Help? Contact Us!
If you know what college application process steps should be taken in order to get accepted but you have no idea how to write your application essay, you should leave all your worries behind and let our writing team take care of your admission essay. All you need to do to get a well-written admission document tailored to your requirements is just to place your order and pay for it. Our writers know all the requirements of the admission board members and can create amazing papers that can exceed their expectations.
Cooperation with our writing service is your shortest way towards reaching success in your college application process. We have already helped many students achieve their academic goals by providing them with premium quality admission essays. We never provide our clients with the low-quality papers because we understand that too much is at stake. By placing your order at our writing service, you get outstanding writing services at a pretty affordable cost. In our team, we have a lot of proficient writers, editors, and proofreaders, who know a lot of tips for the college application process and can turn a simple admission essay into a great masterpiece. In other words, by turning to our writing service for help with the college application process, you will be able to relax and reach peace of mind knowing that your admission essay is in safe hands.
All in all, when applying to college, you need to take care of each detail of your application. If you have poor writing skills or you lack the time to work on this paper, do not be afraid to rely on us. Just allow us to take care of your admission essay and start packing your bags for the college of your dream!